B-A grad takes over Tyrone/Bellwood soccer program
In the world of Tyrone/Bellwood-Antis soccer, Alex Bartlett is something special.
Bartlett was once the Mountain League MVP and led his team to the District 6 2A championship game in 2013. His family was also instrumental in creating the Tyrone/Bellwood-Antis co-op program about 10 years ago. Before that students at B-A could not play on the high school level.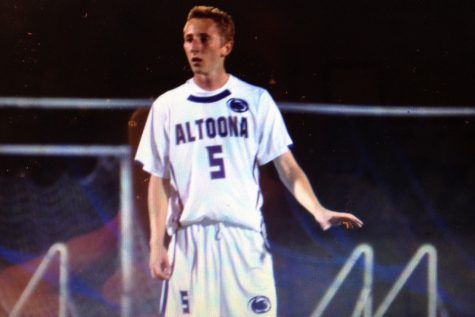 Now Bartlett is going to help guide the program into the future.
Last month, Bartlett, a 2014 alum who is wrapping up his first year as a teacher at Tyrone, took over as the head coach of the Tyrone/Bellwood-Antis co-op soccer team after being the assistant varsity coach last season.
He took over after the last year's head coach Nick Miller's position was opened in March.
"I'm buzzing about the opportunity. Having a physical and emotional connection to the program makes this even better," Bartlett said. "My dad, along with many others, fought tooth and claw for this co-op program so getting the chance to lead it in the right direction is exciting."
Alex is looking to have a hard-working team that wants to compete at every game and will do its best to win.
"Compete in every game, practice, and film session. Win the Mountain League then go on to win District 6," he said when considering his goals. "Many of the team goals that we are establishing for this year are surrounding by winning and driving a winning culture. However, we strive to build good habits which will make us become better players and individuals outside of soccer."
Bartlett was recently named the director of the soccer program at the Northern Blair Rec Center, so his influence on soccer in the area will be big, despite the fact that he is only 22.
"Our area is very young when it comes to soccer. My goal is to make kids want to play soccer not because their parents told them to, but because they love the game and enjoy learning and being competitive," said Bartlett
Bartlett also played other sports while in high school that included basketball and track, winning several won tri-athlete awards. He was an assistant on the varsity soccer team last season, as well as a junior high girls basketball coach at Tyrone.
He went to Penn State Altoona to play soccer for two years and started both years as a striker.
While the co-op soccer team has had some success, even advancing to the District title game last season, it still has not win a championship, and Bartlett is looking to change that.
"I want our program to be known for competing every day we step on the field. With that, comes a winning mindset. I have a vision for our program to become one that challenges other teams for Mountain League and District titles every year," said Bartlett.