BluePrint students score high at a writing contest
On October 31, BluePrint students competed in the  Pennsylvania Student Press Association regional journalism competition at Juniata College.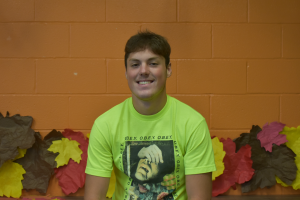 The results were released last Thursday, and Troy Walker, who competed in the category of Newspaper Sports Story Writing, placed first with a score of 31.
Several other BluePrint writers placed high, including Maggie Erickson, Jackson Boyer, and Caroline Nagle.
"This is the first time we tried this contest and it's a lot different from the others we have done before," said BluePrint advisor Mr. Kerry Naylor. "Our students had to receive a writing prompt at Juniata College, giving them information for a story along with quotations, and create a news story on the spot. They all went in knowing very little about what the contest process would be, so for them to do so well is a real tribute to their confidence and academic flexibility."
Walker will now compete at the state competition at Penn State in March.
"It feels good because I was there competing against a ton of kids that were mostly from bigger schools," said Walker. "They put my writing skills to the test. I know I could have done better, but it's nice knowing I was the best sports writer there."
Erickson and Boyer competed in  the category of Newspaper News Story Writing, Maggie placed 2nd with a score of 35.  She said, "I was really happy with my placement, but obviously I would have liked to have won my category.  It was a really good experience though and I'm glad I did it."
Jackson placed 3rd with a score of 34.
"I was surprised with my placement," he said. "I felt that I didn't do as good as I did; however, I am very happy that I came in 3rd.  The experience definitely boosted my writing confidence."
The only other BluePrint student that placed in this competition was Caroline Nagle.  She competed in the category of Editorial Writing and placed 3rd with a score of 19.
The PSPA has competitions that feature writing, design, and artistic opportunities. When the students submit their work, a team of journalism experts evaluate all the work that is submitted.  Each student will receive helpful feedback on their submissions to help them improve their work.  Overall, this is a great opportunity for aspiring journalism students and gives them the chance to celebrate their achievements.
For more information, visit the website.