ATHLETE OF THE WEEK: Bryson Guyer
An up and coming athlete in fourth grade at Myers, Bryson Guyer is the younger brother of Blue Devil junior Cooper Guyer, and like his brother Bryson has a knack for football.
Give it a couple of years, but it's a pretty good bet you'll also see Bryson playing for the B-A on Friday night.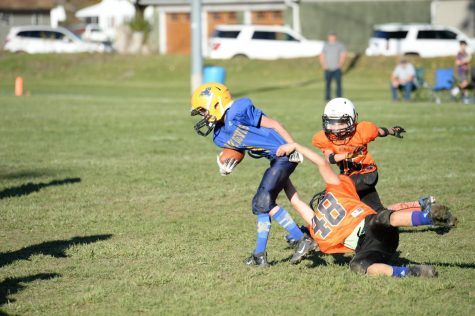 The BluePrint has selected Bryson as this week's Athlete of the Week. He plays football, baseball, and wrestles.
Bryson plays quarterback for the East Antis Rams. This past season he was named an All-star and scored 17 touchdowns.
His favorite sport is football and according to Bryson, "his season "went really well."
We asked Bryson how hard it is to play quarterback and his answer was, "Not hard when you get to know the plays, but you are the captain of the team"
Bryson said it has been fun playing with all his friends on one team, but next season he will be moving up to the youth league and he is excited and happy.
Outside of sports, Bryson  takes part in Real Men Wear Pink, a men's group dedicated to raising money and awareness for the fight against breast cancer. His teacher, Mrs. Leah Frederick, said he likes to help people. In fact, earlier this year, Bryson sold pink bracelets in school to raise monetary donations toward the fight against breast cancer.
His efforts made an impact not only on Myers Elementary, but on Bryson's teacher, as well.
"Teachers remember every learner that has gone through their classroom in a different way. Bryson is a learner that will be remembered as being intelligent, hard-working, a team player, and ambitious," said Mrs. Frederick. "More than any of that, however, Bryson's level of empathy, kindness, and desire to do good in the community and in the classroom will drive him to accomplish great things!"