Luensmann wins Keystone Award for best news story
BluePrint named second-best student website
Search any student newspaper over the last year and you're going to find droves of articles addressing the ways in which students and schools have been affected by the COVID-19 pandemic. It's a theme so common it would hard to imagine anyone of them standing out.
That was the challenge Bellwood-Antis junior Jack Luensmann was facing when he took on a series he titled "Keeping UP With COVID" for publication in the BluePrint.
A first-year staff writer for the Voice of the Bellwood-Antis School District, Luensmann had no idea the impact his unique series would have.
This week, Luensmann learned that his story, "Keeping Up With COVID: Hands-On Learning" was recognized by the Keystone Press Awards as the top General News Story in Pennsylvania among high school publications.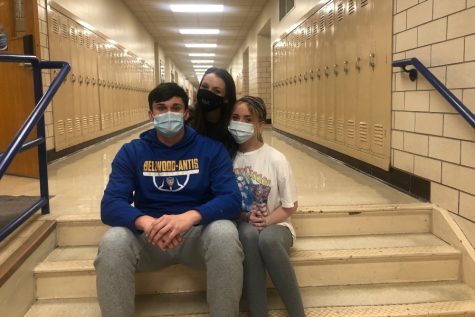 "Jack put a lot of work into that story," said BluePrint adviser Mr. Kerry Naylor. "Sometimes in BluePrint a student is asked to meet a tight deadline and write a story in one class period. Other times, stories take research and interviews and follow-ups. For stories like that, kids have to be willing to do the work, and Jack was. He is a very talented writer. Along with providing us with excellent news coverage, he is also a really talented satirical writer. We're lucky to have him on board this year!"
Luensmann brought home one of three awards garnered by the BluePrint from this year's Keystone Press Awards, an awards competition with entrants from across Pennsylvania. In the podcast category, seniors Haley Campbell and Caroline Nagle were an honorable mention for their "Saved By The Bell" podcast.
"I like the fact that awards are given to show that hard work is actually being recognized," said Luensmann, who was origiannly scheduled for a study hall during his BluePrint class period this year before joining after the first week of school. "There are many different perspectives on (COVID). There are many people's viewpoints can be represented."
The BluePrint website itself was placed second in the category of Best Website. It is the fourth top-two finish for the BuePrint since 2016 after being named the top website in 2017 and 2018.
The Tyrone Eagle Eye took first, while Pittsburgh's North Alleghany was an honorable mention  with its Uproar.
"It feels good to be recognized in that top echelon of publications in Pennsylvania," said Mr. Naylor. "At the end of the day, all we can do is push ourselves to provide strong and complete news coverage in a timely and visually pleasing manner, and after that judges will either like it or not. So we have to be our own standard. But just to know there are people out there who have expertise in this area who feel we're doing it right is a big boost. It says a lot about our school and the support that we get from the faculty, students and administration that we are consistently viewed as one of the best in the state."
Campbell and Nagle were both instrumental in the BluePrint's success at the awards, both as editors and podcasters.
"I am so proud that our small podcast that originally started as something fun to do is now being recognized," said Campbell. "Although a podcast is simply 'talking,' a lot of work goes into it. Whether that be Caroline and I discussing topic ideas for weeks to find the best idea or hours of editing."
"
I am so proud of all of us and can whole-heartedly say a lot of work was put in to make this happen.
— Haley Campbell
For the BluePrint in general, the second-place placement ended a two-year drought of being shutout of the top spots in the contest. Working its way back to the top took a lot of effort and work.
"I am so proud of all of us and can whole-heartedly say a lot of work was put in to make this happen," said Campbell.
Mr. Naylor said awards like this help continue a tradition that other students can buy into.
Since we began the online version of the BuePrint in 2014, we have received a lot of recognition, whether it's Best of SNO awards, Distinguished Site awards, Keystone Awards, or any number of others," he said. "I think it gives students something to shoot for and it allows kids coming into the class for the first time realize they are a part of something and that they have an obligation to maintain a standard of excellence."