Keeping up with COVID: Hands-on learning
There is often a cycle in which school classrooms operate: the teacher talks about a subject, the students take notes, the teacher hands out an assignment, the students complete the assignment, the teacher hands out a review, then he/she gives out a test. It's a rinse/repeat in many classrooms at Bellwood-Antis and across the country.
But for some teachers, this is not the case. Some courses at B-A are hands-on and require students to work with their hands and display their craftsmanship and problem-solving skills. Some of these courses include industrial arts, home economics, and STEM subjects such as chemistry with Ms. Clippard and earth and space science with Mr. Goodman.
With COVID restrictions in place, teachers and classrooms have not been able to operate in their traditional way. Many are resorting to virtual options such as Edpuzzle and other online platforms for an electronic learning experience. But for some teachers, their classrooms and instructional methods haven't changed at all.
Many teachers have been able to keep their routine through this COVID age. Industrial arts instructor Mr. Bill Crowell and home economics instructor Ms. Valerie Harris have had to make minimal changes in their classrooms.
"I am very happy that we aren't completely virtual, and that we can still work here in the shop," said Mr. Crowell.  "This is a class about working with your hands and it gives students an out-of-classroom experience."
As far as changes go in Mr. Crowell's room, there is only a limited amount of people allowed in the shop to promote social distancing. Each student has their own pair of safety glasses as opposed to last year and years before when students shared the glasses. Desks and safety glasses are sanitized after every class. Virtual learning in Mr. Crowell's room is difficult due to its hands-on nature.
"
I had a choice at the beginning of the year to either make everything online and self-paced, or keep and adapt the hands-on activities that I normally do. I chose to keep the activities and make them as COVID-19 safe as possible."
— Mr. Goodman
"It's tough to do virtual learning when the students aren't here in the shop," he said. "I wouldn't want them to do what we do here in the shop because that is very unsafe."
Ms. Harris said the biggest change for her has been in handling class sizes, while the biggest challenge is meeting the needs of learners at home.
"As far as virtual goes, I feel bad for the kids because they don't have the opportunity to cook. I don't want them cooking without supervision and having to purchase food items," she said.
The science department at Bellwood-Antis High is also managing to incorporate hands-on learning through the COVID era via labs. STEM teachers Ms. Clippard and Mr. Goodman have been able to keep up with the virus.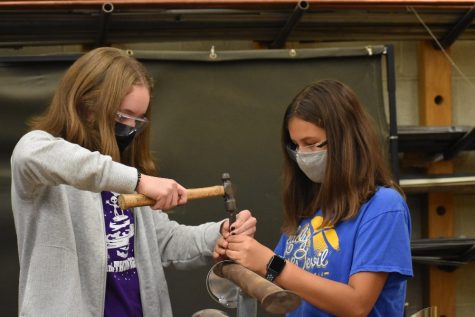 Clippard voices: "We haven't been able to do what we usually do with COVID-19, but we still make it work. Traditionally every student would share equipment and safety goggles and PPE (personal protective equipment.) In order to conduct labs with COVID, there needs to be a set of equipment and PPE for each student, as well as following the sanitizing and social-distancing guidelines. Unfortunately, virtual students are unable to do the labs due to lack of materials and safety."
Mr. John Goodman has been balancing his hands-on schedule with both in-person and virtual learners, but it presents its challenges.
"My biggest challenge this year is finding time. Finding time to prepare in-class and remote lessons, correct papers, communicate with parents, convert hands-on activity into COVID-19 safe activities, and convert in class lessons into something remote students can understand," Mr. Goodman said. "As for hands-on activities, I had a choice at the beginning of the year to either make everything online and self-paced, or keep and adapt the hands-on activities that I normally do. I chose to keep the activities and make them as COVID-19 safe as possible, to be fair with my in-class students. Although time-consuming, so far making class activities COVID-safe has worked well. My students wear gloves and masks, I sanitize regularly, all paper materials are submitted electronically, and we use a lot of hand sanitizer."
Art class with Mrs. Leah McNaul has also been presenting its challenges, as it is a very hands-on class in order for students to express their creativity and ideas. 
In past years Mrs. McNaul would conduct whole-group demonstrations so students could watch her model the proper way of completing an assignment, but that can't happen now in order to prevent large groups of students from being too close together.
"We also use our hands a lot and touch materials, so we have to be extra cautious as to which set of materials belongs to which class so students are not touching others belongings," Mrs. McNaul said.
Not only is the high school adapting to through the COVID era, the elementary is having to face the same challenges. Second grade teacher Mrs. Tara Naylor said she and other teachers have had to adapt the way students select reading books in order to prevent the spread of germs.  Along with that is the handling of learning tools, like manipulatives in math class.
"We have made changes to make it safe for the students," she said. "One thing I've done is designate math manipulatives to a specific student as opposed to in the past where we shared such materials."
As COVID numbers continue to rise in Blair County, more adaptations may become necessary moving forward, but for now B-A teachers are handling the unprecedented situation with creativity and caution.