SENORRRRRR AGUAFIESTAAAAA
Señor Aguafiesta has been a staple piece in Señora Smith's classroom since Nicholas Caracciolo, Sasha Neyman, and Hunter Gregg adopted him from Goodwill early last school year. 
The three students were in Spanish 3 at the time when they brought Señor to class as a gift for Señora Smith. 
"We got Señor Aguafiesta to spice up the Spanish room," Nicholas Caracciolo explained. 
Ever since he was brought into school, he has been dressed up in different costumes, placed around the classroom for the "¿Dónde está Señor Aguafiesta?" (Where is Señor Aguafiesta?) and the Spanish class has even thrown fiesta's in his honor in the past.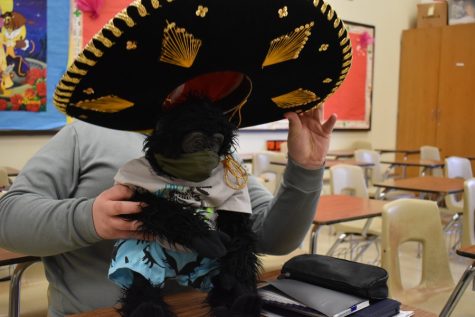 His name, Senor Aguafiesta, has been a common question among peers who are not in Spanish. Senora Smith used do a "Palabra del dia," which means "word of the day." Everyday she would write a Spanish slang word on the board and students would try to guess what the word meant. One of the words was Aguafiesta, which means party pooper. So yes, his name means "Mr. Party Pooper."
"I think Señor allowed us to get closer to Señora and he pulled us together as a class," Hunter explained. 
Señor serves a bigger purpose than just fun for the now Spanish 4 students. He has allowed for necessary mental breaks in learning allowing for better concentration in classes. 
Other Spanish students were curious about how the monkey came into class and thus turned Señor Aguafiesta into a fun-loving class stuffed pet for all Spanish classes. 
"Before every class started, we would always look around to try and find him. Looking for señor every morning made my day," Jaidyn McCracken recalls. 
Up until COVID-19 hit, everyone wanted to play a role in Señor's costume changes and placement in the classroom. Now, Señor Aguafiesta keeps up morale of Spanish students from the same spot on Señora's filing cabinet as students walk in and reminds them to always wear a mask. 
"Even though I am not in Spanish this year, it warms my heart that Señor is encouraging students to wear masks in school," Sasha said. 
Now, students have fond memories of times with the monkey before the pandemic. 
"My favorite memory is when we had a fiesta for him for his birthday," Nicholas said
"One time I dressed Señor up and hung him on the wall in the back of the classroom with duct tape. It was one of the funniest placements for him and definitely my favorite memory," Hunter went on to say. 
As this year comes to an end in just a few short months, the question has come up of what will happen to the monkey as this year's Spanish 4 class graduates. 
"I hate the monkey, so I will be throwing him away," Señora said. 
However, the Spanish students feel as though he deserves a more majestic demise.
"There are plans in place to have a funeral for the monkey, as he will die when the spirits of the class of 2021 leaves. We will then continue to celebrate him every year on 'Dia de los Muertos," Nicholas said.
Even though senor Aguafiesta will die with the class of 2021, his memory will forever live on. He is even featured in the 2020-2021 yearbook in the Spanish club picture.
Leave a Comment