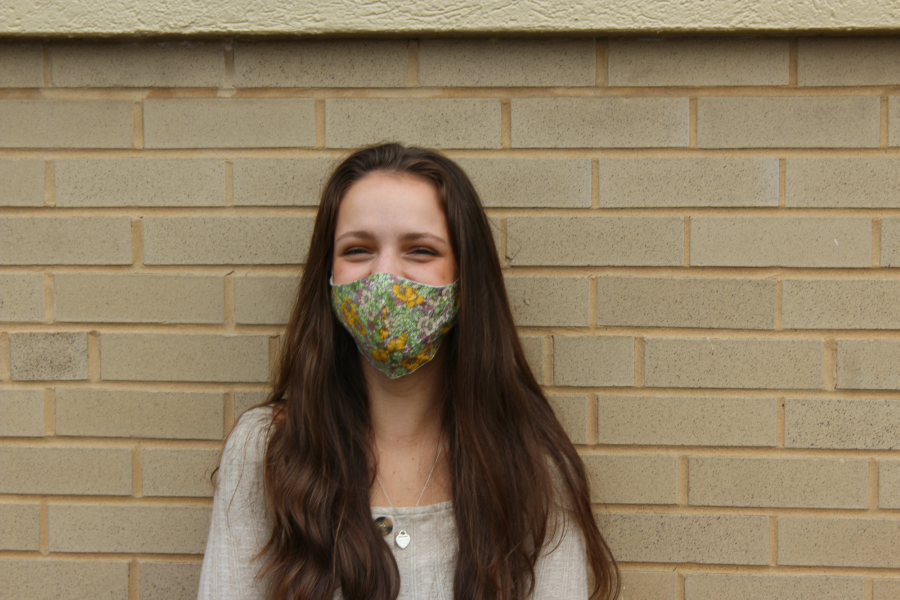 Caroline Nagle
Grade: 12
Number of years in BluePrint: 3
Activities
FCA, Key Club, Renaissance, Aevidium, Cheerleading, track, NHS, chess club, morning announcements, mini-THON
Job Details
I am the features editor, so I write stories that highlight different students and staff around the school. I also occasionally write opinion articles and blogs. I also help with social media.
Why I joined BluePrint
I really enjoy writing and journalism and my sophomore year I had a free first period so I signed up, loved it, and I have been involved in blueprint ever since.
Fun Fact(s)
I am ambidextrous, have a genuine fear of cats, and have a strong love for McDonalds.
Caroline Nagle, Features Editor
Jan 14, 2021

College Corner: Alex and Aiden Taylor

(Story/Media)

Jan 08, 2021

SAVED BY THE BELL PODCAST 7: Bellwood vs Tyrone

(Story/Media)

Dec 22, 2020

CHS Forum in Pittsburgh has been canceled

(Story)

Dec 18, 2020

Bellwood is not requiring midterms and finals for the 2020/2021 school year

(Story)

Dec 14, 2020

The BluePrint's top new stories of 2020

(Media)

Nov 24, 2020
Nov 23, 2020

SAVED BY THE BELL PODCAST 6: Thanksgiving Sides

(Story/Media)

Nov 10, 2020

Boys soccer shutout in district championship

(Media)

Nov 10, 2020

SAVED BY THE BELL PODCAST 5: Moz vs Mac

(Story/Media)

Nov 06, 2020

COACHES CORNER: Backyard Brawl

(Story)

Nov 05, 2020

FEATURED ALUMNI: Chris McCartney

(Story)

Nov 04, 2020

Middle school keeps up moral with virtual talent show

(Story)

Nov 02, 2020

Some Bellwood seniors vote for the first time

(Story)

Oct 23, 2020

COACHES CORNER: Bald Eagle Area

(Story)

Oct 23, 2020

Saved by the Bell Podcast: Episode 4 – POP-TARTS

(Story)

Oct 21, 2020

BA HISTORY: Bellwood-Antis Library

(Media)

Oct 20, 2020

College Corner: Alexandra Diamond

(Story)

Oct 19, 2020

Danish crowned 2020 Homecoming Queen

(Story)

Oct 15, 2020

Bellwood Bios: The Custard Queens

(Story)

Oct 14, 2020

How much will not having a homecoming game affect the court?

(Story)

Oct 09, 2020

B-A announces 2020 Homecoming Court

(Story/Media)

Oct 07, 2020

B-A makes major changes to education in COVID era

(Story)

Oct 05, 2020

FEATURE TEACHER: Mr. Pownall

(Media)

Oct 05, 2020

World Teachers' Day

(Media)

Oct 05, 2020

PHOTOSTORY: World Teachers Day

(Story)

Oct 02, 2020

ATHLETE OF THE WEEK: Nick Plank

(Media)

Oct 02, 2020

ARTIST OF THE WEEK: Halee Cassidy

(Media)

Oct 02, 2020

COACHES CORNER: Williamsburg edition

(Story)

Sep 30, 2020

Golf team wins ICC

(Media)

Sep 25, 2020
Sep 22, 2020

A Letter to the Administration

(Story)

Sep 18, 2020

COACHES CORNER: Everett Preview

(Media)

Sep 17, 2020

JUST JUNIOR: Sydney McFarland

(Story/Media)

Sep 17, 2020

New transfers settling in at B-A

(Story/Media)

Sep 17, 2020

SUPER SENIOR: Raven Criscitello

(Story/Media)

Sep 17, 2020

Fab Freshman: Chance Schreier

(Story)

Sep 16, 2020

FEATURE TEACHER: Mr. Roberts

(Media)

Sep 15, 2020

SAVED BY THE BELL PODCAST: Episode 3

(Story)

Sep 10, 2020

The daily battle against COVID-19

(Story/Media)

Sep 09, 2020

Lunch With a Mask?

(Media)

Mar 09, 2020

THROUGH THE DECADES PODCAST: Episode 5 – 2015 movies

(Story)

Feb 28, 2020

BELLWOOD BIOS: Makenzie Kissel

(Story/Media)

Feb 27, 2020

THROUGH THE DECADES PODCAST EPISODE 4

(Story)

Feb 18, 2020

THROUGH THE DECADES PODCAST: Episode 3, movies of 2013

(Story)

Feb 12, 2020

BELLWOOD BIOS: Tori Mauk

(Story/Media)

Feb 06, 2020

BELLWOOD BIOS: Lauren Thompson

(Story/Media)

Jan 31, 2020

THROUGH THE DECADES PODCAST: Episode 2

(Story)

Jan 28, 2020

THROUGH THE DECADES PODCAST EPISODE 1

(Story)

Jan 17, 2020

PHOTOSTORY: Campbell breaks scoring record

(Story/Media)

Jan 15, 2020

Alli Campbell breaks historic scoring record

(Media)

Jan 08, 2020

ARTIST OF THE WEEK

(Media)

Nov 22, 2019

What Gives Life Its Value?

(Story)

Oct 04, 2019

Tea W/ C: Snapchat Streaks

(Story/Media)

Sep 24, 2019

Tea W/ C: Jeans

(Story/Media)

Sep 10, 2019

Tea W/ C: The New Phone Rule

(Story/Media)

Jun 07, 2019

CONGRATULATIONS CLASS OF 2019

(Media)

Jun 06, 2019

B-A Students Participate in Xscape Xtravaganza

(Story)

May 21, 2019

Sensational Sophomore: Lauren Young

(Story)

May 14, 2019

Tea W/ C: The tests we take do not define us

(Media)

May 06, 2019

Middle Schoolers Perform High School Musical

(Story)

May 01, 2019

Sensational Sophomore: Brendon Miller

(Story)

Apr 26, 2019

Tea W/ C: Prom Night

(Story)

Apr 24, 2019

Tea W/ C: Over It

(Story)

Apr 17, 2019

Tea W/ C: Shopping Online

(Story)

Apr 15, 2019

Tea W/ C: Parking Dilemma

(Story)

Apr 15, 2019

Sensational Sophomore: Joe Dorminy

(Story)

Apr 09, 2019

Tea w/ C: Dress Code

(Story)

Apr 05, 2019

Sensational Sophomore: Kaitlyn Dickinson

(Media)

Apr 05, 2019

Tea W/ C: Snowflake Society

(Story)

Apr 01, 2019

Tea W/ C: Promposals

(Story)

Mar 14, 2019

Tea W/ C: Revival of BDN

(Story)

Mar 04, 2019

BA mini-THON is another success

(Media)

Feb 25, 2019

Tea W/ C: Stereotyping

(Story)

Feb 14, 2019

Tea W/ C: Valentine's Day

(Story)

Feb 05, 2019

Tea W/ C: Social Media is Ruining Society

(Story)

Jan 30, 2019

TEMPS FORCE SCHOOL DISMISSAL

(Story)

Jan 25, 2019

PJ day and dress down day postponed

(Media)

Jan 17, 2019

Athlete of the Week: Casi Shade

(Story)

Jan 15, 2019

Spotlight on Staff: Caroline Nagle

(Story)

Jan 08, 2019

Stellar Staffulty: Mrs. Chamberlin

(Story)

Dec 19, 2018

Tea w/ C: Christmas controversy

(Story)

Dec 14, 2018

What is the problem with water?

(Story/Media)

Dec 06, 2018

Tea w/ C: friending teachers on social media is a no-no

(Story)

Nov 28, 2018

STELLAR STAFFULTY: Tom Gority

(Story/Media)

Nov 14, 2018

Tea w/ C : Public Display of Affection

(Story)

Oct 19, 2018

B-A freshman takes first at speech meet

(Story)

Oct 16, 2018

Mrs. Noonan retires after 37 years

(Story)

Oct 08, 2018

Two students headed to District orchestra

(Story)

Sep 11, 2018

SENSATIONAL SOPHOMORES: Maria Cuevas

(Story)

Sep 10, 2018

RAINS FORCE SCHOOL CLOSURE

(Story)

Sep 06, 2018

Media Center makes upgrades

(Story)

Nov 16, 2017

B-A sends 17 to County Chorus

(Media)