Three B-A graduates pass in tragic weekend
The Bellwood-Antis community lost three remarkable people recently during a heartbreaking two-day period that touched B-A faculty and students.
Over the weekend of December 4-5, Ronald Blazier, Glenn Randal "Randy" Potts, and Max DeArmitt passed away. Each had left a mark on Bellwood-Antis in their time on earth and were remembered by B-A faculty members for their warm  spirits.
Blazier, a 1989 B-A graduate, died unexpectedly in his home of a sudden heart attack on Saturday, December 4 at 50 years of age. One of the very few Bellwood athletes to play professionally, Blazier was drafted by the Philadelphia Phillies in 1989 before being promoted to the majors in 1995. His career was cut short when he experienced a shoulder injury in winter ball in Venezuela. Blazier ended his career with a 4-2 record, 63 appearances, and 67 innings pitched. In 2008, he was inducted into the Blair County Sports Hall of Fame.
As a Blue Devil, Blazier led his team to a PIAA state title game in his senior year with a fastball in the 90 mph range. Blazier also played a prominent role on the basketball team along with B-A faculty member Nick Lovrich.
"Ron was a very talented baseball player, but his basketball ability was really overlooked," said Lovrich. "His senior season he may have been the best player in the Juniata Valley league. Ron was good at pretty much everything he did as far as athletics. Not only was he one of the best athletes to come out of Bellwood-Antis, he was a great person too. He was always in a good mood and fun to be around. He will be missed."
Potts, a 1977 B-A graduate, passed away Saturday, December 4 at UPMC Altoona following complications from multiple strokes at 62 years of age. An longtime basketball coach, Potts assisted Missy Lovrich in coaching many B-A girls basketball teams in the late 90's, including their run to the District title  in '99.
"When I was hired as the head coach in 1996 my first order of business was to hire a junior varsity coach," said Lovrich. "I asked Randy if he would be interested, and he was very eager to say yes. Little did I know then that would end up being one of the best decisions I could make as a coach. Randy and I became immediate friends, and those four years together were a blast."
Mrs. Lovrich recalled a moment she and Potts shared after their team won the championship in 1999.
"It was a double OT win again our JVL rivals Southern Huntingdon and we won on a last second shot," she said. "After all of the celebrating and the cutting down of the net, Randy and I had a moment to talk.  It was very simple.  Randy said to me, 'What a win for the program.' Looking back on all of it now, the real win was having Randy being a big part of our Lady Blue Devil program."
Max DeArmitt, a 2018 B-A graduate, passed away after a car accident in Kentucky on November 27.  DeArmitt, just 20 years old, died Sunday, December 5.
He was memorialized by members of his graduating class on social media and remembered for his positive outlook on life, his warm heart, and his deep faith. DeArmitt leaves behind a wife, Delaney, whom he had married last June.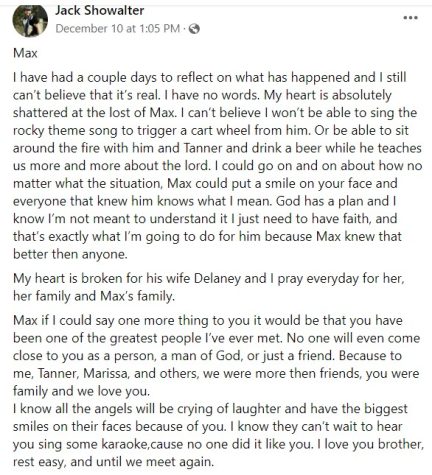 DeArmitt was an active member of the student body at B-A. As a senior he went out for both the basketball and track teams after playing baseball throughout high school. He was also a member of the Homecoming court and THON.
Mrs. Allison Stinson, was one of many teachers at B-A to develop a strong relationship with DeArmitt. She remembered him for his endearing personality, which she credited to his faith.
"Max was everything that was good.  He truly had a love of life and that was because of his love for God," she said.  "He treated every person like they were his best friend, showing kindness, acceptance, encouragement and love to all those that he encountered.  Max's unshakeable faith was a guiding light for him and he became that light in so many other people's lives.
In remembering DeArmitt Mrs. Stinson recalled a quote from Rabindranath Tagore who said, "Death is not extinguishing the light.  It is simply putting out the lamp because the dawn has come."
"Max's impact, his life and his light will forever shine in all the lives he positively impacted," Mrs. Stinson said.  "He will surely be missed, but never forgotten."