Myers Elementary honors former principal
New book vending machine dedicated in Dr. Harpster's name
Last Friday, former elementary principal Dr. Terri Harpster was recognized in the elementary school for her hard work and commitment to encouraging children to read.
The school unveiled a book vending machine, which students can use to purchase books using special coins they earn in class. The machine was then dedicated to Dr. Harpster, who retired two years ago after 39 years working at B-A.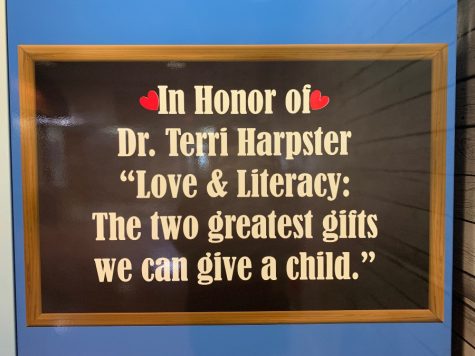 On the day of the dedication, a large, paper covered, box shaped object stood up against the wall of the elementary hallway outside of the main office. Dr. Harpster, ceremoniously removed the wrapping to find the custom 'book vending machine,' not knowing it had been dedicated to her until Principal Matthew Stinson invited her to read the inscription on its side.
Dr. Harpster then gave a wonderful, heartfelt speech about the importance of children reading, and her thankfulness for the staff.
"I'm so touched by their remembrance of me, but I'm also so filled with joy that literacy is still the focus of the elementary school," said Dr. Harpster. "This means so much to me because it means so much to kids."
Another teacher, Mrs. Lori Dionis, shared a poem dedicated to Dr. Harpster, thanking her for her service to the community.
Mr. Stinson held a small gathering of teachers with donuts, bagels and other refreshments to watch the unveiling of this wonderful gift.
"We wanted a way to honor Dr. Harpster for all of her hard work. We had tossed some different ideas around. This was something we knew about and it's a great way to spread literacy to kids," said Stinson.