BluePrint earns 8th consecutive SNO award
SNO, Student News Online, is a student news organization that provides a platform for web-based student news.
Every year, more than 500 schools and universities across America have their sights set on achieving the SNO Distinguished Site award. To be eligible to receive this award, the site must fulfill the requirements in these six categories: Best of SNO, Audience Engagement, Multimedia, Story Page Excellence, Continuous Coverage, and Site Excellence.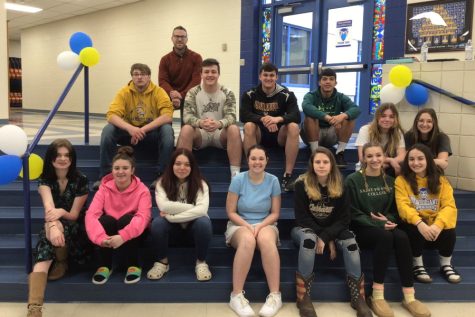 However, only 50 Distinguished Site awards have been awarded this year, which means only 10% of student websites in the U.S. have been able to be a part of this elite standard.
The B-A BluePrint, since its establishment in 2015, had earned this award every year, thanks to the hard work and dedication of its staff. On Tuesday, the staff learned it had garnered the achievement for the 2021-22 school year.
"Going through the process of becoming a distinguished site is challenging, for sure, but rewarding, because it definitely raises the level of our website," said BluePrint advisor Kerry Naylor. "There are so many standards of excellence to reach that sometimes it feels like the task is too big. For this year's group, earning the honor in writing was the challenge, but Julius [Diossa], Halee [Young], and Tyler [Mercer] emerged to get Best of SNO awards. It's always a team effort and that's what I love about it."
Members of the 2021-22 staff include: Aarron Laird, Julius Diossa, Kimberly Bennett, Jojo Caswell, Halee Young, Johanna Heckman, Gracie Rice, Addalyn Turek, Holden Shook, Cooper Guyer, Jack Luensmann, Zach Pellegrine, Tyler Mercer, and Hayliana Shumac.
The BluePrint also received contributions from students outside of the official class, including Chloe Hammond, Miranda Tornatore, Ava Kensinger, and Kate Heisler, who handled much of the website's video production; Morgan Kienzle, who was a staff photographer; and Kyra Markey, Mara Bollinger, and Rene VanProoyen, who tend to the BluePrint's social media accounts.
"To do this 8 straight years is a real tribute to the students taking BluePrint this year and all of the ones who came before and laid the groundwork," added Naylor. "When we got our first one in 2015 in our first full year online, we established that Distinguished Site would be our first goal and standard every year and every class since then has risen up and met the challenge."