B-A Community picnic committee looking for volunteers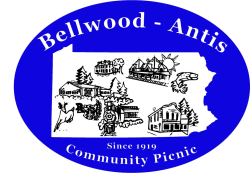 The board of the Bellwood-Antis Community Picnic is asking B-A churches, sports teams, clubs, business, and anyone interested in helping set up or participate in this year's picnic to attend a meeting in the Bellwood-Antis Public Library. This meeting will be held on Sunday, April 16 at 6:30 PM.
This is the 104th annual B-A Community Picnic. In previous years, the picnic included great food and games such a splash hop at the Bellwood-Antis Community Pool, cornhole, and other carnival games, including a dunk tank. The event has been held at Delgrossos Amusement Park in the past, but in recent years, it has been held at the fire hall in the heart of Bellwood.
The event is generally held a week and a half after the Fourth of July. Last year, it was held on July 15.
To get involved or simply keep up with the happenings of the picnic organizers, you can follow their Facebook page.
Leave a Comment