Bellwood-Antis graduate Alex Schmoke gets the chance to play on one of the biggest stages in college football this Saturday when the University of Delaware Blue Hens will take on the Penn State Nittany Lions at Beaver Stadium.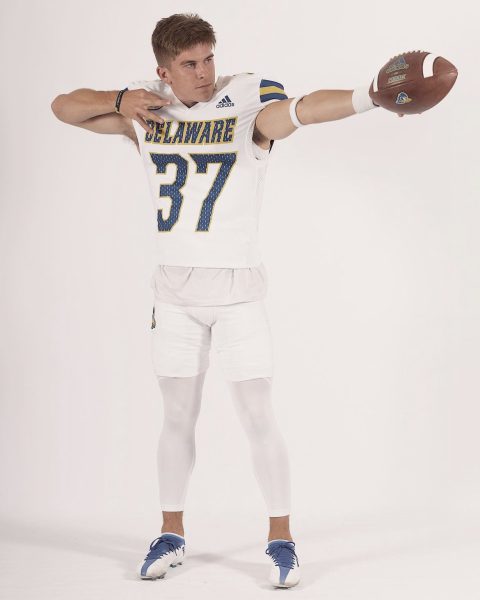 Schmoke is a graduate student at Delaware who is on the team as the kicker.
"It's definitely going to be fun," he said. "I'm very excited to have my entire family in the stands cheering me on along with a lot of friends from back home."
When coming out of high school Schmoke was not a heavily recruited kicker. He didn't start kicking until his junior year, because until then he was a soccer player.
In his high school career Schmoke connected on 99 PAT attempts and four field goals. In his senior year alone, he made 48-of-50 PAT attempts and had 19 touchbacks on kickoffs.
The decision to join the football team worked out in his favor. He is now the place kicker for the University of Delaware. Before transferring to kick for the Blue Hens, Schmoke committed to play for Saint Francis University, where he played three seasons with the Red Flash.
In 2019 as a true freshman, Schmoke appeared in four games had 14 kickoffs for 830 yards and two touchbacks but was still able to redshirt. After the 2020 season was cancelled, Schmoke was assigned with the task of handling both the PATs and field goals in 2021. In the 2021 season he earned HERO Sports FCS Freshman All-American and All-NEC First Team. Schmoke led the NEC with 70 points scored, converting 15-of-17 field goals, making six from over 40 yards, his longest being 47 yards. He had 17 touchbacks on 44 kickoffs.
During the 2022 season he was named All NEC First team again, and connected on 18-of-22 field goals and 48-of-52 PAT attempts.
In 2022 Schmoke graduated from Saint Francis with a degree in exercise physiology. He then entered the transfer portal after last season. After graduating from Saint Francis, he is furthering his education working on getting his master's degree in health promotion. After graduating with his masters he hopes to get started in a career of coaching special teams. Hoping to stay at the University of Delaware to do so.
Schmoke was initially intimidated by the transfer portal, but once he started to gain some recognition, he became more comfortable with the process.
"My experience was stressful last first but as soon as schools started contacting me, I had some fun with it because I wasn't highly recruited coming out of high school, so I didn't get to have that experience early on," he said.
He would eventually end up committing to the University of Delaware, which began its season with a 37-13 win over Stoney Brook. Schmoke kicked off seven times and recorded two touchbacks.
Schmoke attributes much of his success as an athlete to his family and his coaches.
"My coaches were always there to push me to be better while my parents were the ones that gave me the resources to train with the best to become the best I could be," Schmoke said.
One of these coaches Schmoke can attribute some of his success to is Bellwood-Antis head coach Nick Lovrich. When Lovrich was asked about Alex and what it's like to see one of his athletes succeed at the collegiate level, he had nothing but praise.
"Alex was a very good athlete in high school.  He played soccer before coming out for football.  His first love when he was young was baseball," Coach Lovrich said.  "On the football team he was more than just a kicker.  He was a defensive back and receiver who played a major role in our team.  It was great seeing him compete at St. Francis and now at Delaware.  The thing about Bellwood kids at the next level, you usually see them really improve when they start to focus on one sport.  At a small school those athletes need to play multiple sports, but once they become full time like in Alex's case they really excel."
Lovrich makes it a point to keep in touch with all football alumni and reach out to let them know what is currently going on with the program and to wish them luck.
And like many other people in Bellwood, Lovrich will be making the trip up to Happy Valley on Saturday.
Kickoff is at 12:00 p.m. at Beaver Stadium.