B-A sophomore wins national twirling competition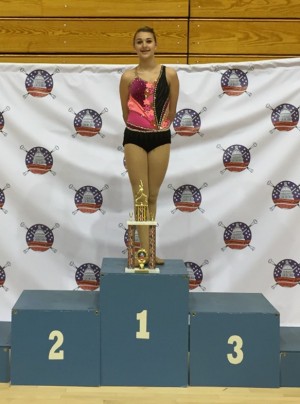 Sophomore twirler Mikala McCracken earned a first place finish at the 2016 Congressional Cup Weekend at St. Mary's University in Emmitsburg, Maryland last week.
She placed first in the 13-15 age group in the Beginner 3 division with a score of eight points.
Beginner 3 included strut, solo, and two baton. Mikala score one, five, and two in each category, respectively.
Although Mikala feels as if she didn't compete at her full potential, she is still pleased that she achieved a goal by taking home the first prize.
"It definitely wasn't my best performance, and I felt I could've performed better, but I still am very excited, and it gives me confidence for the next competition," said Mikala.
The next competition is states, which will be taking place at California University of Pennsylvania in April.
Mikala also competed in the beginner open division solo where she placed fifth, the beginner open division strut, and the beginner open division two baton, placing sixth in the latter two.