B-A freshmen earn dance scholarships
Most kids look forward to going to the beach, going to amusement parks, or just hanging out during the summer.
Freshmen Jamyson Focht and Izzy Holes are going to school this summer. The pair received scholarships to attend Grier School in Birmingham for dance.
Spending your summer in a school setting may not sound like fun, but these two say they will enjoy it.
"It's worth it in the end. It may be time consuming, but it's worth it," said Izzy.
"It doesn't bother me a lot because we will be in a dance complex," Jamyson added.
The girls are members of Andrea's Dance School on Main Street. Through Andrea's help they were able to attend a two-day convention called Grier Gala.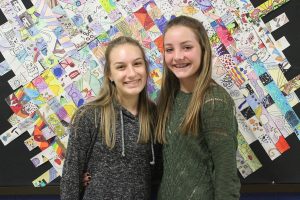 Grier is an all-girls boarding school located just outside of Tyrone. In Grier's words, "Grier School is a girls' college-preparatory day and boarding school for students in grades 7-12, offering an individualized education in academics, dance, riding, music, the visual arts, theatre, and a great variety of recreational and team sports."
When they attended the Gala, they were dancing for five hours each day, and the director at Grier, Jocelyn Hrzic, was watching.
She later went onto the stage and announced their names to come up  as the scholarship winners. The girls will attend Grier for a three-week dance program.
"It was very fun and exciting, especially at the end," said Jamyson.
Both girls feel that it will impact their life, improve their skills, and they think it's a great opportunity.
"Dance is a big part of my life, and going to Grier will really help me improve mentally and physically," said Izzy.
"This program will help me improve greatly, and it gives me a really good opportunity," Jamyson said.