Cross-Town Basketball opening next week
The Joshua House of Tyrone is known for providing opportunities for kids in the community, with programs like Community Outreach, Golden Eagle Backpack Program, Hoopsfest, and many others.
One of the Joshua House's most popular events is the Cross-Town Basketball League, which opens next week with open gyms.
The league has been around since 2004.  Last year was the only year the league was not played because the Joshua House did not feel like they had good enough facilities to host the league.  With the recent upgrade to the court at the Joshua House Armory, the Cross-Town League will be played again this year.
The league was created to keep kids active that weren't playing a winter sport.  Not only that, but the J-House also saw this as an opportunity to make an impact on local students' lives.
"
Our aim is for teens to have a blast playing basketball with friends."
— Jim Kilmartin
"We saw kids that needed to do something after school in the winter and thought that the league would be a good way to keep them active," said Mrs. Mizpah Glenny, a Joshua House representative.
The league is for boys and girls in high school that do not play a varsity sport and want to have fun.
"This is a fun league for students that like to play basketball that don't play on the varsity level. Our aim is for teens to have a blast playing basketball with friends. It's an open co-ed rec league to kids around the area," said Joshua House founder Jim Kilmartin.
All games and practices are at the Joshua House Armory (926 Logan Ave. Tyrone) and there will be two divisions separated by age.  The middle school league is open to 7th graders – 9th graders, and According to the high school division is 10th grade – 12th grade.
"We are hoping to have eight teams.  There will be playoffs and we plan for seven games," said Mizpah.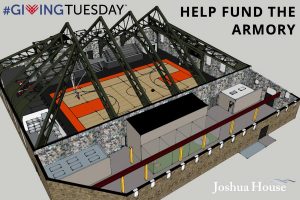 Practices will be held once a week.  The day of the week and time is dependent on what team you play for.
The cost is only $25 and is not due until the first game.  The first game is Friday, January 13th.  After that all games will be held on Saturday evenings between 5-9 p.m. The Cross-Town league is also partially funded by Operation Our Town.
If this league sounds like a good fit for you or somebody that you know, you can register for the league at www.JoshuaHouse.com/crosstown/.
If you aren't sure whether you want to play or not you can attend open gyms on December 14th and December 21st.  The open gyms will be from 5-7 p.m.
All players must be registered by 5 p.m. on December 21st in order to be in the league draft.