High school spirit week
Four days of dress-up fun are planned to get students in the holiday spirit
Its the most wonderful time of the year. So why not make it fun at school?
The high school  is holding a spirit week before Christmas break next week, with special dress up days from Monday, December 19 through Thursday, December 22.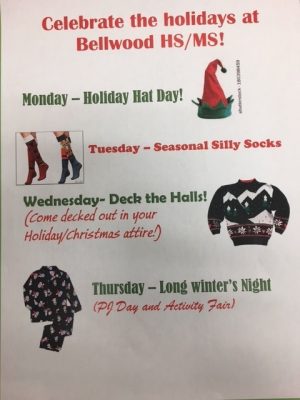 Monday– Holiday Hat Day
Wear your favorite Christmas hat. This could include Santa or elf hats.
Tuesday– Seasonal Silly socks
Wear some Christmas socks.
Wednesday– Deck the Halls!
Wear your favorite Christmas attire, especially your ugliest Christmas sweater.
Thursday– PJ Day 
Roll out of bed and come to school with your Christmas pajamas on. The Activity Fair is also on this day.
The student with the best outfit on each day will win some candy, according to the high school office..