Lady Devils win Pink Game again
Saturday afternoon the sixth annual Pink Game between the Bellwood-Antis and Tyrone girls basketball teams to raise money for breast cancer research.
The Lady Eagles of Tyrone entered the contest with a 17-2 record and were looking to avenge a 28-point loss that B-A handed to them in the championship game of the Reliance Bank Holiday Tournament earlier in the season.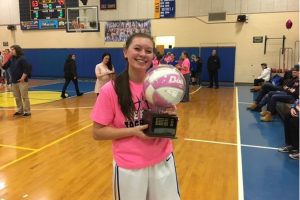 However Bellwood-Antis had a different plan in mind. While the final score was closer this time around and Tyrone managed to keep the Lady Devils' lead in single digits much of the second half, B-A still won 63-49 at the Bellwood-Antis gymnasium.
B-A remained undefeated in the Pink Game series and maintained possession of the contest's traveling trophy.
The Blue Devils started the game right where they left off when the two teams meet before. B-A raced out to a 9-0 lead and ended the first quarter with a 12-point lead, 19-7.
With the game looking like another Lady Devil blowout win, Tyrone showed some toughness as the Lady Eagles battled their way back into the game with solid defense and were able to capitalized on some lackluster defense that led to two wide open threes for Tyrone's Kasey Engle.
The Blue Devils were outscored 10-9 in the second quarter but still lead 28-17 at the half.
The third quarter was a back and forth affair as the teams traded baskets throughout the quarter. Allie Campbell scored six points in the post and Emilie Leidig sunk a big three-pointer; however, Tyrone won the quarter and outscored Bellwood-Antis 17-15 and cut the B-A to single digits for the first time since the first quarter.
As the fourth begin, Senior Karson Swogger decided to put the game into her own hands. Swogger, who had a game high 22 points, scored 12  in the final quarter. B-A rode Swogger's hot hand all the way to the final horn as they won the game 63-49.
With the fourteen point victory it snapped B-A's five game streak of winning by 40 points or more, however the win continued B-A's winning streak to 16 games.
Campbell added 16 points and nine rebounds to the team's winning efforts and was satisfied by defeating Tyrone for the second time this year.
"Beating Tyrone twice this year feels pretty good. It's always a good feeling to beat your school rival once, but beating them twice is even better," said Campbell.