2003 state championship team looking for entry into Blair Hall
The most successful baseball team in Bellwood-Antis history has not been forgotten.
The 2003 Blue Devil baseball team, which won a state championship in Coach Steve Conlon's first season, has been nominated to be inducted into the Blair County Sports Hall of Fame, but they could use your help.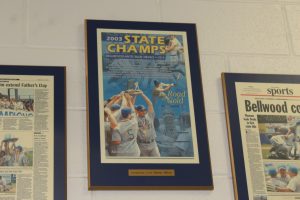 In order for the 2003 baseball team to be selected, they need the support of B-A community members.
The team was nominated by Tom Geishauser, who himself was inducted into the Hall last year.
His nomination letter explained the accomplishments of the team, and why it was worthy for induction into the Hall.
The 2003 team finished the year with a 22-4 record, beating Elk Lake 2-1 at Riverside Stadium in Harrisburg.
Geishauser's nomination now needs to be seconded, which is done by community members, fans, coaches, parents, or anyone else who would like to see the team earn a spot in the Hall.
To second the nomination a letter should be addressed to: Blair county Hall of fame at P.O. Box 162 Altoona, Pa 16603, or you could email at [email protected].
The 2003 team win the Blair County League championship, the District 6-A championship, and the PIAA championship. It is the county's only baseball state champion from Blair County, and the school's only team state championship in any sport.
"
Nothing was going to stop them from achieving their goals.
— Coach Conlon
There's no doubt that the 2003 baseball team was special and deserving of such accolades.
"They were outstanding.  We had a group of individuals that set a goal and went for it.  Nothing was going to stop them from achieving their goals,"  said Coach Conlon.
Conlon said just being nominated was reward enough.
"It's exciting, and it is and honor to just be nominated by someone in the community that feels the team deserves to be recognized for their accomplishments,"  he said.