B-A boys lose another game in districts
Bellwood-Antis made states last year while having Nathan Davis on the roster.
It hasn't been quite as easy this season, but overall Bellwood has had a great season for losing such a great player.
The still have  great players who have had great seasons, for example Joe Padula hitting his 1,000th career point, Trent Walker having a 30-point game, Jarrett Taneyhill having great defense with blocking shots and rebounding, also Ethan McGee being a great all-round player with his terrific defense and electrifying offence.
All that wasn't enough to help the Devils win the District 6 3-A consolation game on Wednesday.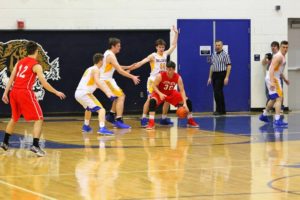 Coming off a heartbreaking loss to Richland in the District semifinals, they lost to Juniata 49-35, with half of the team ready and set to play with the other half not ready at all and that is what held Bellwood back from getting the W.
Padula had 8 points, Walker had 15 points, and Engle had 4 points. For the playoffs, that is not enough points to win with the defense that was displayedon Wednesday.
Bellwood shot for 3 of 13 in the second quarter and 1 of 8 in the third quarter. By the end of the third quarter Bellwood was trailing by 12 despite leading at the end of the first quarter.
Bellwood-Antis will now play Lincoln Park, the WPIAL champion from Pittsburgh, in the first round of the PIAA playoffs.