Unfinished Business
Baseball team shooting for championship season in 2017
Last year a young Blue Devil baseball team went 13-8 and took an early exit in the District playoffs.
With that still in the back of its mind, a Bellwood-Antis baseball team returning eight starters is excited to show everyone they are an elite group.
The team has a theme this year of "Unfinished Business".  The Devils want to win the ICC Championship and District 6 Championship after tough losses in both of those games 2 years ago.
According to head coach Steve Conlon, hard work is what is going to allow the team to accomplish these goals.
"We need to work hard to get better each day and come to practice with a positive and enthusiastic attitude," said Coach Conlon.
Assistant coach Tom Partner feels that the players need to play for each other in order for the team to be successful this year.
"Each player should recognize his role, do it to the best of his ability, and not let his teammates down," said Coach Partner.
Overall, the 2017 Bellwood-Antis baseball team has a great chance of accomplishing these goals.  The team will have plenty of senior leadership from guys who have played in big games before.  This experience could be key for the Blue Devils in late May.
One of the guys that will be providing leadership for the team is senior Jordan McCracken.
"The team's goals this year is to finish what we started.  We want to bring home the ICC and the District 6 medal and make a run at states," said Jordan.
"
The team's goals this year is to finish what we started. We want to bring home the ICC and the District 6."
— Jordan McCracken
Jordan, who is a three year letterman and ICC All-Star, will be a part of a very strong outfield that is returning 3 starters.  Jordan had an OBP of .392 and contributed 18 RBIs.  Jordan may also see some time on the mound this year.
Along with Jordan will be junior Trent Walker and senior Brendan Kowalski.
The speedy Brendan Kowalski is not only solid in the field, but is also a headache for opposing teams as a baserunner.  Last year as a junior Brendan went 100% on stolen bases, going 8 for 8.  
Look for Brendan to be a huge part of the Blue Devil's success this year.
"I feel really confident going into this season knowing that I'll be in the outfield with the same guys as last year.  We can all know how to work together, and we need to since we're the last line of defense.  We are expecting big things from not only the outfield, but the entire group this year," said Trent.
The Blue Devils will be returning some key infielders this year as well. The great part about the team this year is that the infielders can move around and play more than one position.
After scoring his 1000th point in basketball this year, senior Joe Padula is primed for a successful spring.  Though he has become familiar at 1st base, he could be seeing some time at 3rd this year.  The two time CC Team selection will be looking to be solid and steady this year no matter where he is playing.
"I want to provide quality at-bats, solid defense, and leadership," said Joe.
If he can replicate his sophomore and junior seasons, this should not be a problem.  Joe has a career OBP of .467 and an AVG of .288.  He also takes advantage of the opportunities he gets on the bases.  Though not the fastest guy, Joe is a very smart base-runner and last year he went 9 for 10 on stolen bases.  He will definitely be a key to the Blue Devil's success this spring.
Jack Showalter, Alex Schmoke, and Ian McFarland will also be important to the Blue Devil infield.
Jack played 3rd base last year, but may end up moving to 1st base.  The jack-of-all-trades  junior can also appear behind the plate when senior Sawyer Kline is pitching.  Last year Jack had a .311 AVG and 15 RBIs.
Sawyer Kline is a powerful player all around, whether it be him blowing fastballs by hitters, or hitting home runs, the senior definitely provides the Blue Devils with some muscle.  Last year the Penn State Altoona commit posted an impressive .390 AVG, .486 OBP, 15 RBI year.  He also hit a home run.  Sawyer will be chasing history this year as he is 35 hits away from 100 hits.  
Sawyer not only gets it done with his bat, but also with his arm.  Last year he finished with a 1.54 ERA through 22.2 innings.  Along with this, not many runners will be stealing bases on Sawyer as his strong arm allows him to throw runners out.
"
We need to work hard to get better each day and come to practice with a positive and enthusiastic attitude."
— Coach Conlon
This Blue Devil senior can change the momentum of any game with his power. The 3 year letter winner is destined to have a huge year.
"I want to be a good leader.  I want to lead by example by providing consistent offense and defense," said Sawyer.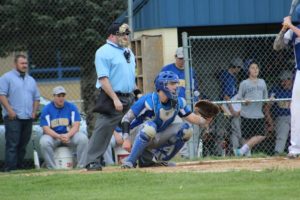 Playing shortstop and pitching for BA will be senior Nevin Wood.  Last year Nevin had a .281 AVG and 12 RBIs.  However, the saying is that defense wins championships, and Nevin really helps Bellwood out with his defense.  Along with his solid play at shortstop, he also dominates on the mound.
Nevin started 7 games last year for BA and ended with a 5-0 record and a 1.70 ERA.  Out of his five wins, four were complete games, and one was a shutout.  Nevin also led the team with 49 Ks last year.
After losing senior Cory Parson, the Blue Devils will need someone to step up and provide quality pitching.  Blake Johnston will most likely be the one trying to do this.  Last year as a sophomore he went 2-2 and finished the season with a 3.06 ERA.  This year the junior is sure to improve and provide BA with another arm.  
Trent Walker, Jordan McCracken, Joe Padula, and freshman Travis Luensmann also may be called upon to pitch.
The Blue Devils should have a great year overall.  Juniata Valley and defending ICC champs Mt. Union will both be tough conference opponents for the team.  With that in mind, BA is just taking it one day at a time and working hard.
"We're going to work hard and push each other everyday," said Nevin Wood.
The Blue Devils have the potential to have a great year, and should be a very fun team to watch.
"Fans should be excited because this year we bring tons of talent and power to the field.  Since we only lost one player, the other eight know each others play-making abilities so we definitely have chemistry when we play," said Jordan McCracken.
Be sure to support the Blue Devils as they open up in Bellwood against conference rival Juniata Valley.  Last year the Devils lost both games to the Hornets by one run, including a 9 inning thriller. Nevin Wood will be the opening day starter.