ATHLETE OF THE WEEK: Alexis Gerwert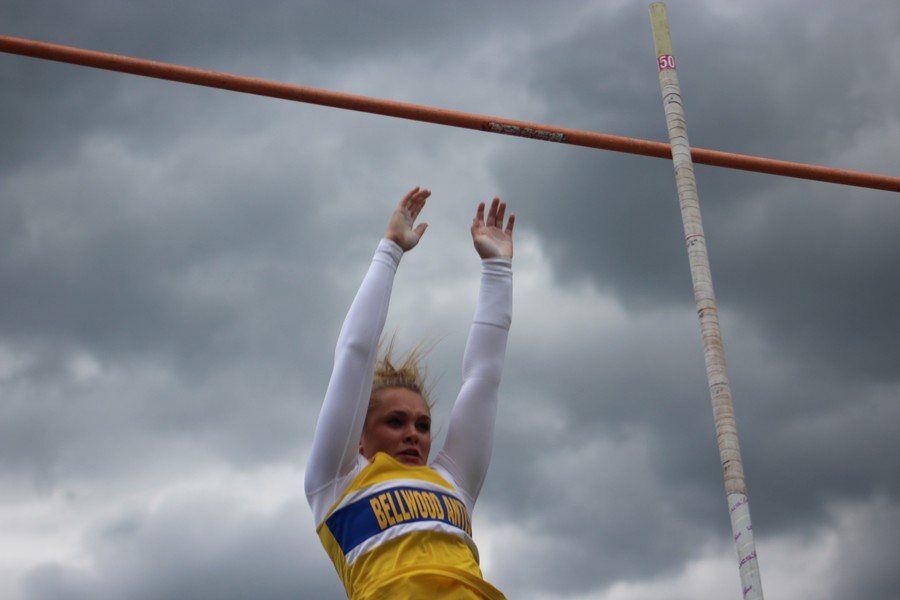 Recently, Alexis Gerwert set a new meet record at the United Invitational with a jump of 10 feet in pole vault. She also set a new school record and a personal record by jumping 11 feet. Alexis qualified for districts for her third year in a row and set the new record for the Bellwood Invitational of 10 feet and 7 inches.
Last Friday, Alexis set yet another meet record of 10'1" at the Inter-County Conference (ICC) Meet. On Monday, she won the ICC Class AA.
For her achievements, she has been selected BluePrint's Athlete of the Week.
Alexis has been on the girls track team for 3 years. Although her main focus is pole vault, Alexis will occasionally run the 4×1.
Alexis became a pole vaulter because she wanted to follow in her father's footsteps.
"My dad was a pole vaulter in high school so I was kind of expected to be on the track team," said Gerwert.  "Plus, I was no longer able to do gymnastics so it gave me something to do."
As far as her performance this season, Gerwert is proud of how far she has come.
"I started off the season rough by jumping 9'6 the first few meets but then became consistent at 10'," said Alexis. "At the first away meet at Everett I had a double PR then making it 11'0. Although I haven't jumped 11' since then, I'm becoming very consistent at 10'7" which is great. So far this season I've broken two meet records, the school record and PRd for the first time since freshman year."
During the offseason, a lot of hard work and dedication goes into Gerwert's sport.
"Out of season, I work with Freddie Dorman at DSP and continue Pole Vaulting throughout the summer, fall, and winter seasons, going to competitions here and there," said Alexis.
Gerwert values the environment of track and how relaxed the sport and its coaches are.
"What I like most about track is that it is very laid back," said Alexis. "We have to get done what we have to get done but if something comes up our coaches are usually very understanding."