B-A students take 24 challenge
Holden Schreier advances to state contest
Five students attended the 24 Challenge Competition at Johnston Vo. Tech on Thursday, May 18.
Holden Shreier placed second and qualified for the state competition on June 14 in Hershey.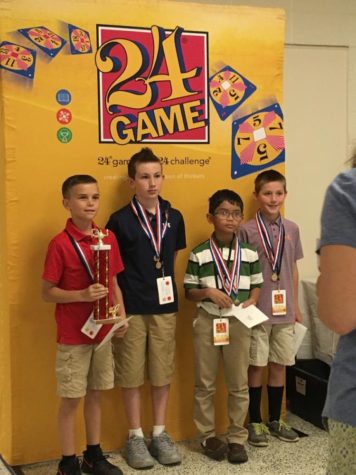 "I was impressed with the students," said Mrs. Taylor, "To get 4 out of 5 into the semi-finals was quite a feat. the competition was tough because they were up against the best students from other schools. I look forward to seeing how Holden does in Hershey."
24 Challenge is a math game in which students take four numbers and get an answer of 24 by using all adding, subtracting, multiplying or dividing all four numbers.
Fourth graders, Ryan Marinak and Holden Schreier, seventh graders, Jack Luensmann and Caeden Poe, and eighth grader, Kenneth Robison all qualified by being the fastest students in their respective grades at Bellwood-Antis.
They play one single digit round and one double digit round to earn points for the semi-final round. In the semi-final round, they have two cards that each have one missing number and participants must find a solution that solves both cards.
Holden qualified for the final round which presents four cards that each have one missing number and must find one number that will correctly solve three of the cards, and placed second. Ryan lost a tie-breaker to get into the finals and finished fifth over all. Caedon won his consolation match.