Tech opportunities expand with maker space
Myers Elementary School opened a makerspace last year with great success. Now the middle and high school is following its footsteps.
A new makerspace is opening in the  the library/media center.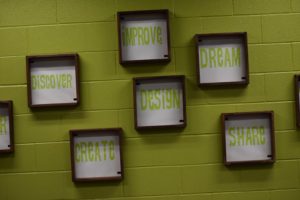 A makerspace is a place where kids can go and do projects that can improve their critical thinking. According to the website Makerspaces: A makerspace is a collaborative work space inside a school, library or separate public/private facility for making, learning, exploring and sharing that uses high tech to no tech tools.  These spaces are open to kids, adults, and entrepreneurs and have a variety of maker equipment.
"
Changes and updates will be ongoing throughout the remainder of the school year.
— Ms. Forshey
Students primarily in grades five through eight are the target audience of the initiative, but all students in the middle and high school will be able to use the makerspace.
However, the middle school makerspace is not finished yet. According to principal Dr. Don Wagner, it's still in the design and building phase, but so far there is new balsa flooring installed, ceilings, a new paint job, and there is cabinetry coming at the end of this week. The builders will soon start to install the cabinets, which will hold all the materials and supplies.
"There will be all kinds of equipment and supplies such as vinyl cutters, heat pressers, sublimation printers, cardboard, crayons, and markers," said Ms. Forshey.
Some things you can do in the makerspace would be creating with  things like Legos, designing wind turbines, doing things to programming robotics, coding and just lots of different other projects that are geared towards science, technology, engineering, and math (STEM) related activities.
The area will be monitored and run by new media center teacher Mr. Tim Trexler, who switched to the technology position after 30 years in the classroom.
Mrs. Kyley McGarvey runs the maker space in the elementary school.
Kids will come to the makerspace when teachers bring classes down to do projects, but it will also be available for students who just have an interest in that type of activity. When teachers come down it'll be scheduled by the teacher in coordination with Miss. Forsey and Mr. Trexler and Mrs. McGarvey other than that kids will be able to go down during study halls and possibly after school.

"The makerspace and adjacent maker classroom are almost complete. Changes and updates will be ongoing throughout the remainder of the school year," said Ms. Forshey.