91 members of B-A community turn out for prayer event
FCA leads See You at the Pole on another successful meeting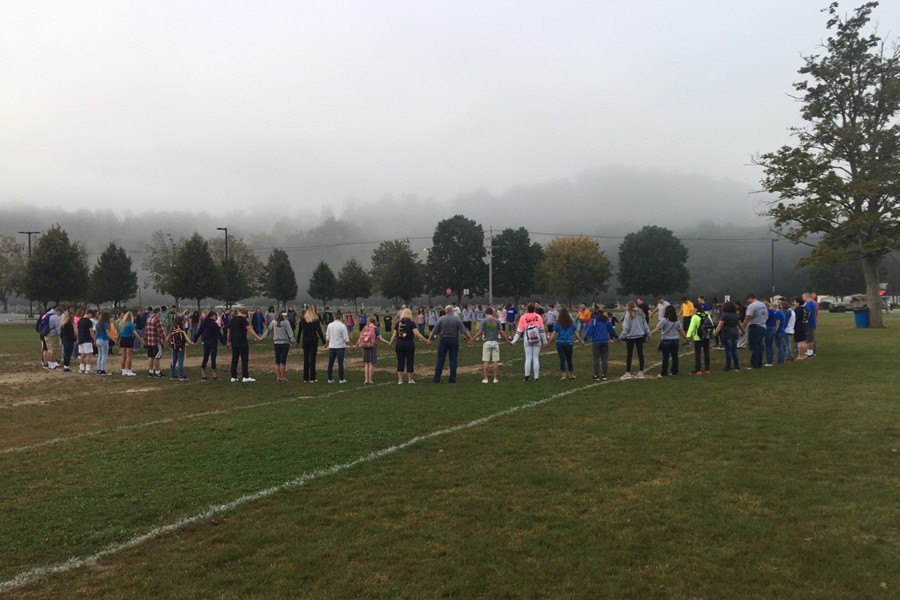 The FCA hosted See You at the Pole this morning at the practice field in between the Bellwood-Antis High School and Myers Elementary.
Ninety-one students, faculty members, and community members attended.
"It was great. Any number of people coming to worship God is a good number," said FCA president Tanner Worthing. "Of course we would like to see more and improvement every year, but I am definitely happy with the turnout."
See You at the Pole is an annual gathering of thousands of Christian students at a flagpole in front of their local schools for prayer, scripture-reading and worship, during the early morning before school starts.
Jack Showalter the vice-president of the FCA talked those gathered about the history of See You at the Pole at Bellwood-Antis.
Tanner  then talked about Hebrews 12:2, which says we must focus our eyes on Jesus, the author and finisher of our faith.
"We as the redeemed must look unto Jesus keeping our hearts and minds stayed on Him. We must all be aware of the holy life that He lived," he said. "We are to always keep in remembrance how He persevered in His trials and what He endured all the way to the cross that we might inherit the holy covenant paid for with His blood."
Alexandra Diamond, a freshman, went to See You at the Pole . She said she would come back  again.

"It was nice to see all believers together. It was more than I expected," Alexandra said. "I expected Jack or Tanner to pray and that would be it, but they actually taught a lesson."
At the end of the service the students, faculty members, and community members made a prayer circle. Moving around the circle, each person says a prayer, and if that person does not want to they can squeeze the hand of the person next to them.
See You at the pole was a great success and the FCA is planning to have it again next year.