Acclaimed singer visits BA
Opera singer Lisa Gwyn spent time with musicians at Bellwood-Antis on Friday November 3. She performed a concert and presented a Vocal Masterclass for the students in chorus and band.
Later, Gwynn performed in a local concert on Sunday, November 5,  at the Bedford United Methodist Church.
"
I feel so blessed that (students) were given the opportunity to work with her.
— Ms. Hull
B-A choir director Ms. Beth Hull was introduced to Gwyn, who hails from Philadelphia, by a performer she knew.
"I feel so blessed that (students) were given the opportunity to work with her. They were glad and they made the most of the advantage of using her work," Ms. Hull said
Ms. Hull said Gwynn presented different styles of singing to the students, which was inspiring for those who want to sing  as a career.
Junior Dominick Faith went to the performance.
"It was a good experience," he said. "She taught what I already knew, but in a new way."
Dominick also went to a master class on Saturday in Bedford that Mrs. Lisa Gwyn was teaching.
"It just seemed that it would be better then what I could get out of the school," he said.
Gwyn has performed internationally for opera houses, symphonies and other arts organization. Lisa also performed in major opera houses to include New York City Opera, Chicago Lyric Opera, Seattle Opera, Palm Beach Opera, Washington National Opera, Boston Lyric Opera, Opera Philadelphia, Opera Carolina, Cincinnati Opera, Arizona Opera and more.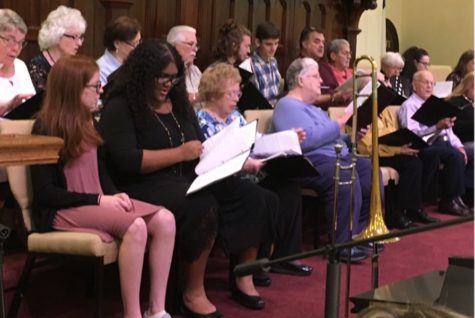 She performed the same role with the Royal Danish Opera of Copenhagen, Denmark and Serena in Porgy and Bess recently for the Margaretzeit Musical Festival in Budapest, Hungary. The active soloist with orchestra, Gwyn made her critically acclaimed Carnegie Hall debut singing the title role of Aida with New York Grand Opera which was also her Avery Fisher Hall debut as part of the Richard Tucker Foundation Gala in the "triumphal Scene."
Gwyn collaborated with noted conductors to include Peter Nero, Keith Lockhart and Leonard Bernstein.