Young Lady Devils ready to go
B-A's youth should not be a problem this season
In 2017-18, the Lady Blue Devils look to follow up last year's successful season and more.
The girls last year were unstoppable at home going 11-0 and ended the season in a playoff loss to Bishop McCort in the 2017 PIAA Girls' Basketball final four to finish off a 26-5 season. Three of the Lady Devils' losses came to the Lady Crushers.
This year's team is small (12 girls) and very young.  Christina Hollen is the only senior and there are only two juniors, Ali Wagner and Riley D'Angelo.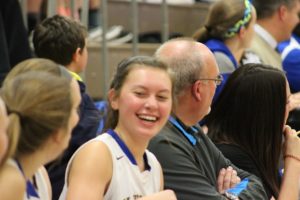 "We are returning four letter-winners, and although we don't have the same senior class of last year, I think what we have this year is still a championship caliber team," said Hollen.
Coach Jim Swaney, who is now coaching in his fourth decade including time at Bishop Guilfoyle and Tyrone, doesn't see how the young team is as a problem.
"We are a young team, but I have very little concern. They have all prepared for this opportunity," Swaney said.
The Blue Devils definitely have the firepower to get it done;  Hollen, D'Angelo, sophomore Emilee Leidig, and sophomore Alli Campbell all have starting experience and letters.
Campbell will lead the Blue Devils at point guard this season after scoring 528 points with a 2:1 steal to turnover ratio in her freshman campaign.
Alli has been getting national attention and is being heavily recruited by the Big 10 Conference, UConn, and the defending National Champions South Carolina just to name a few on the long list.
Sophomore Sakeria Haralson is a transfer student from Altoona high, where she was a standout as a freshman and is already getting some D1 looks.
There is one thing the Lady Blue Devils aren't and that is small. Two players on the roster are 6 feet tall: Campbell and Haralson.
Bellwood-Antis's last girl who was a 6 footer was Katie Gardener back in 2004 so it's pretty incredible the Blue Devils have two sophomores this season that reach the 6 ft mark.
The Lady Blue Devils were 19th in the country last year in 3-pointers, and 37th in the nation scoring.
One challenge facing B-A will be replacing the talent that left last year including Karson Swogger. Swogger scored 2,000 points in her varsity career and had a team high 802 points while also leading the team in assists and steals.
It's no secret it's going to be difficult to replace Karson, Coach Swaney knows this but it is still confident.
"It will be very difficult to fill the gap left by all four of last year's seniors.  Karson was a great player for us, but this is what high school sports are all about," Swaney said. "Our current team is working hard to stamp their mark upon this program.  It is their time and they are taking advantage of the opportunity."
The Blue Devil girls will look to stamp their mark beginning next Saturday (December 12th) at school rival Tyrone at 4:30 p.m.