Crook Named B-A's Most Inspirational Athlete
Star Athlete Recognized by USA TODAY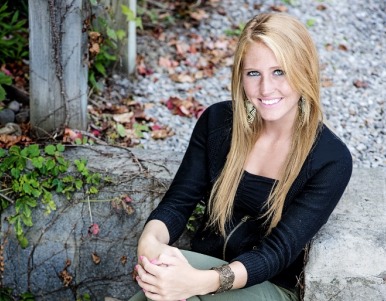 "Are you the most inspirational high school athlete?  Enter Now!" read the subject line of an email from USA TODAY High School Sports that was forwarded to me by Technology Director Michael Lingenfelter. The email explained, "Are you the most inspirational high school athlete? Someone who excels on and off the field or has battled adversity? If so, submit your information for a chance to compete in the 2014 Army National Guard Inspiration Contest. Fans will vote on who they think is the most inspirational high school athlete and the winner will be honored as the 2014 Army National Guard Most Inspirational Athlete."
First response: Who on BA's Earth could I think of as an Inspirational Athlete? I have seen so many wounded athletes, but no one complains or talks about major adversity or overcoming obstacles. I talked with many students who would joke about complaining, then add, "But no, you're right—no one really dwells on it—we just deal with the injury and move on."
Second thought: What does USA TODAY consider "inspirational"? I looked up previous winners and became quite intimidated: there are so many students overcoming cancer, car accidents, brain injuries, tragic losses in the families—people have no idea (I didn't!)
Having talked the Library Assistants completely out, I finally determined that "inspirational" would mean finding another pathway and showing others how they could too – and that thought brought me to Ellen.
Ellen Crook, soccer fiend and All-Star, defensive demon on the basketball court, speedster on the track, who had to make a choice: risk 1 more concussion and possibly suffer permanent damage, or drop cold her beloved sports. Ellen Crook, who switched to distance running with Miss R's guidance and qualified for PIAA States in her first year of Cross Country. Ellen Crook, who had just informed me that Miss K was holding a signing party for her NLI to the UNIVERSITY OF PITTSBURGH for Cross Country and Track & Field!
Why did it take so long to find the inspiration? Because Ellen shares successes and never dwells on setbacks (typical BA student-athlete!) Facing us all, all year long, was an incredibly courageous transformation and a story I could easily write.
Having obtained parental permission and interviewing Ellen, family, friends, and coaches, having written the article (http://contest.usatodayhss.com/inspiration/round-2/selfless-service/6214 ), we all awaited the announcement that Ellen Crook, from Bellwood-Antis High School, was indeed one of the 100 USA TODAY Inspirational Athletes contestants. Ellen made it through the first round to the top 35, but not the final 10; her final rank in the contest was #18. But in the meantime? Ellen broke the school record in the 3200m, then broke it again.
I expect that this story isn't finished yet!
Leave a Comment