ATHLETE OF THE WEEK: Emilie Leidig
BluePrint sports
For Emilie Leidig, her favorite part about basketball is Ali Wagner's pregame meal.
Ali doesn't make one thing in particular, but anything she makes is a huge hit with Emilie and the rest of the Lady Blue Devils. Ledig is averaging 12.4 points per game for the 10-2 B-A girls, so whatever Wagner is cooking, it's working.
Her efforts have earned her the BluePrint Athlete of the Week.
Girls basketball coach Jim Swaney says that Emilie is "a kid who has worked very hard on her game" who has a great attitude. She has high hopes and dreams for not only herself, but her whole team too. She says some goals for herself this year are "to be a good team player." Emilie also hopes to help her team win the ICC Districts and the State Championships.
"
We would not be half the team the team we are without the contributions Em brings every day to our team.
— Coach Swaney
Being able to identify and improve on something is a trait that every athlete needs. Emilie says she needs to work on "driving to the basket, rebounding missed shots, and looking for open teammates."
Emilie plans to score at least 400 points this year. She also has a goal of 1,000 points by her senior year. Coach Swaney the practice she has put in on her shot has paid off.
"She has made herself if not if not the best, then one of the best shooters in this area," he said.
Emilie's expectations for this season have been going as planned. They're currently ranked No. 2 in Pennsylvania in 2A and they've looked dominant in their 10 wins.
"I feel that we will go for and achieve great things," Emilie said.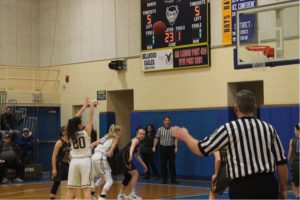 A great team is not built from individual talent, but the talent that  individuals together can create. Emilie says the top thing that the Lady Devils need to work as a team is "finding the open teammate," although she admits that the team has always "played great, fair, and … played together."
This togetherness is needed in every team, the  bond that every player has with another.
"If we continue to have a good friendship, we will continue to play great," she said.
Swaney says that Emilie "is a great teammate, someone who cares as much about her teammates' success as she does her own. We would not be half the team the team we are without the contributions Em brings every day to our team."
We wish Emilie and the rest of the team the best of luck in the rest of their season!
Emilie's Stats (varsity career)
Games Played: 38
Points Per Game: 7.8
Assists Per Game: 1.6
Rebounds Per Game: 2.2
Steals Per Game: 1.5
Blocks Per Game: 0.2