Trent Walker scores 1,000th point
The Blue Devils boys basketball team topped Claysburg-Kimmel last Friday night, but for many of the players on the team, that was only an afterthought, as senior guard Trent Walker scored his thousandth point of his varsity basketball career during the game.
With the team nursing a nearly 10 point lead with a minute left, Walker was fouled and stepped up to the free-throw line with a mission, one he accomplished on his first shot. Trent's teammates, well aware of the moment, jumped off the bench to congratulate him. Trent's parents also joined in on the moment as they went out to take pictures with him, and afterwards, the team threw more of a celebration in the locker room.
Trent joins an exclusive club of Bellwood-Antis players who have scored 1,000 points in their high school career, one that includes two of his uncles, Steve and Kevin Conlon. Trent also joined the Davis brothers and former Blue Devil basketball coach Brent Gerwert on hitting the 1k marker.
The achievement meant a lot to Trent, and he's happy to see his hard work come to fruition.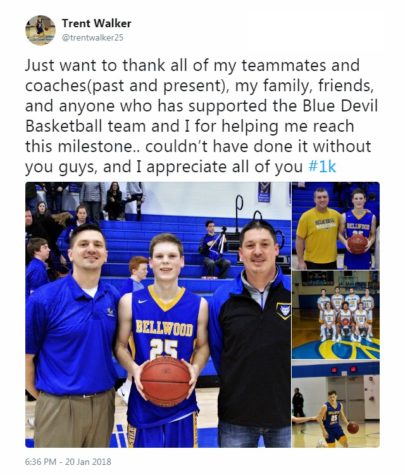 "Only ten other people in Bellwood-Antis history have scored a thousand (points), and I'm honored to be one of those ten. It feels good to see all my hard work pay off and I'm thankful for everyone who's helped me to accomplish this goal," Trent said.
Senior Jack Showalter was excited for his friend and teammate, but he was touched by the scene.
"It was cool to witness the atmosphere of the moment, and it was really nice to see that moment happen for my friend," Jack reminisced.
Trent's 1,000 point achievement obviously wasn't made in one season, and classmate and fellow basketball star Tanner Worthing said that this was something both of them dreamed off for a long time.
"After freshman year, we talked about it and it was a goal to see him get to this point. Now that it happened, it's a surreal feeling to watch my friend accomplish it," Tanner claimed.
Coach, and fellow 1,000-point scorer, Kevin Conlon attributed Trent's improvement throughout his high school career to his ability to work on and off the court.
"No one can reach a milestone like 1,000 career points without putting it a ton of hours in the gym. Trent has worked on his game constantly both during the season and in the off-season by improving his shot and adding elements to his game to make him a better offensive player," Conlon mentioned about the senior.
Trent hasn't given any indication to what his plans and where he will attend college, but Coach Conlon believes he has what it takes to play at the next level if he chooses.
"Trent is a great player but also a great student and person outside of basketball. He will have a chance to play small-college basketball if he wants to, but I know he will be successful with whatever he chooses to do," the first year coach claimed.
"
Trent is a great player but also a great student and person outside of basketball"
— Kevin Conlon
Senior Clay Engle also thinks highly of Trent, and in his usual informal and nonchalant tone, praised Trent's work on the court.
"He's a killer; he has ice in his veins," Clay exclaimed.
This season isn't over yet for Trent and the rest of the Blue Devils, and with their 11-3 record, they have a chance to create some more memorable moments the rest of the season and into the playoffs.
Leave a Comment