B-A softball wins big game against Mo Valley
Faith Patton walks it off; baseball wins by 10 runs
Coming into the bottom of the seventh inning at home, the Bellwood-Antis softball team, down 2-4, knew they had to score at least 2 runs to have a chance to win their first game of the season at home.
After scoring one run early in the inning and with two runners on the bases, Faith Patton stepped to the plate and hit a walk-off double to seal the win and end the game in the Lady Blue Devils favor, 5-4.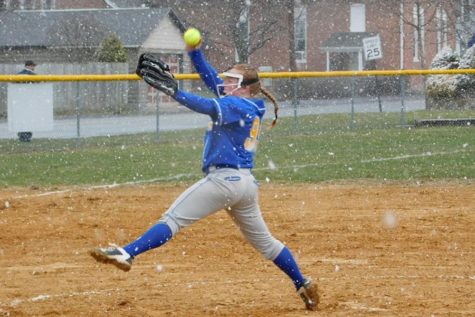 Coach Jim Payne was confident Faith would come through, despite being a sophomore and despite making a fielding error earlier in the game.
"Faith has worked very hard to get where she is at," Coach Payne said. "Having her come to the plate in that situation, we were confident in her. She stayed focused and found a pitch she could hit and drove it to the left center field gap.
"The best part was she had a fielding error earlier in the game, overcame it, and delivered when she got her opportunity. I am very proud of her resilience."
In addition to the winning RBI, Patton went 3-4 in her at bat appearances as the sophomore had a big game for B-A. Another sophomore who impressed yesterday, Haley Schmidt, pitched the entire game for the Lady Blue Devils, striking out 11 players in the process. Atherton Poorman, a freshman, proved her worth in her first varsity game, with two RBIs in two hits.
Coach Payne said there was plenty of praise to go around from the ICC victory.
"It was also great to see our top five batters get on base to set up the dramatic finish," he said. "Great effort by team players."
The softball team will play again at home against Claysburg-Kimmel Wednesday at 3:00.
---
B-A Baseball outscore Black Knights by 10
Moshannon Valley was confident after scoring two runs in the first inning at home, but those two runs would be all they would get as pitchers Mark Stewart and Caden Nagle would strike out six combined and shut out the Black Knights the rest of the game to win 12-2 yesterday at home.
B-A exploded for all of its runs over the third, fourth and fifth innings. Travis Luensmann had a double in that time and drove in a run to highlight a 3-for-4 day at the plate.
Jack Showalter and Stewart also delivered multiple hits in a 9-hit barrage. Showalter doubled and Nick Plank drove in a pair with a single.
The Devils are now 2-0.