Freshman steps up in B-A win over Mountaineers
Coming into the bottom of the second inning down 0-2 Friday against Philipsburg-Osceola, Blue Devil sluggers had a challenge ahead of them to get back into the game.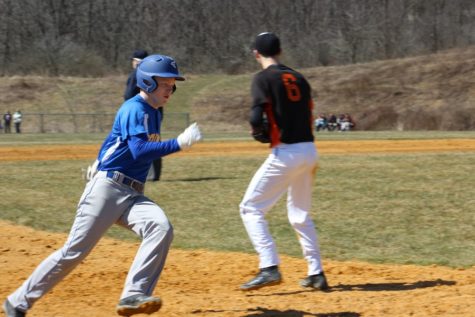 With two outs and one runner on base, freshman Nick Plank stepped to the plate and on the first pitch he drove the ball just over the center-field fence for a two run home run.
Plank, B-A's designated hitter, would add two more RBIs and two more runs for himself in four at bats for the Blue Devils, as Bellwood-Antis outscored Philipsburg-Oceola 10-7 at home.
As the high scores show, it wasn't the cleanest game from either side, with both teams committing four errors each, but it wasn't detrimental to B-A's game like it was last week against Mount Union.
B-A, now 5-1, got big contributions from seniors Jack Showalter and Ian McFarland, who added two hits, while Travis Luensmann had three hits for the Blue Devils.
Sophomore Mark Stewart got the pitching victory, coming on in relief of starter Caden Nagle. Stewart (4) and Nagle (6) combined to fan 10 Mountie batters.
The Blue Devils will play in a double header tonight in Glendale, facing the hometown Vikings once at 3:00 and again at 4:30.