B-A Invitational brings in tough competition
The Bellwood-Antis Blue Devils were able to take second place at the annual B-A Invitational on Monday, falling only to Chestnut Ridge.
The Lady Blue Devils had a tough day, finishing ninth overall at the meet.
Clayton Engle was named as the meet's top jumper, winning the triple jump with a jump of 41-6.75.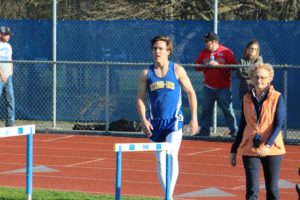 "I feel like I performed pretty well. The wind affected my jumps, so I probably could have done a lot better, but overall it was a good day," Engle said.
Engle placed in two other jumping events, taking third and in the long jump and sixth in the high jump.
Tanner Worthing had the only other individual win for the Blue Devils, winning the 400-meter dash. The boys would go on to win the 400 and 1600 meter relays.
Lexi Gerwert was the only winner all day for the Lady Blue Devils, while breaking the meet record for pole vault by clearing a height of 11 feet.ge
"I feel like I should be jumping higher," said Gerwert. "It's good that I'm consistent, but it's frustrating because I want to continually PR. I know I can get 12 feet in a meet. I have done it in practice."
Bellwood-Antis scored only 23 team points while the winning girls team, United, scored 128 total points.
Jenna Bartlett placed fourth in the 3200-meter run, while Sicily Yingling was fifth in the 400. Jaydyn Shuke placed fourth in the pole vault. The girls 400 and 1600 relay teams each placed sixth.
Bellwood-Antis now prepares for the West Central Coaches meet on Friday at Mansion Park, and Engle feels he will benefit from the challenge that goes along with a week-and-a-half of invitationals heading into Districts.
"I think the better competition makes me perform better," he said. "If someone has a jump that's better than mine, I'm always pushing myself to jump better."