Ooh, la la!
B-A exchange students wins District tennis crown
Thursday night Bellwood-Antis foreign exchange student Paul Lemaire joined up with Tyrone's Ethan Vipond to capture the District 6 2A tennis title for doubles. The duo took down the defending doubles champion from Richland, Cole Kazmierczyk and Robert Murtha.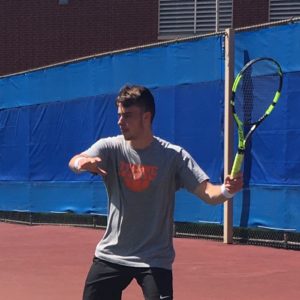 They won the match in three sets after losing the first set big. They had to battle back all the way.
Lemaire and Vipond will now advance to states at Hershey, Lemaire is the third representation of Bellwood-Antis athletics in Hershey for states this year. Senior Christina Hollen went for tennis singles in the fall and the girls basketball team won the state championship this winter.
Lemaire is definitely excited for states saying, "It's so cool to go to states, being here only one year and already going to states is a really good experience."
While he plays the sport in his native France, Lemaire said the competitive nature of tennis in the states has pushed him to become better.
"It's a lot more formal," he said. "It's better here. People in France don't really care, but over here it's very cool to play and have a real objective. The fact it's a school sport makes it harder."
Lemaire said that the finals match with Vipond wasn't a work of art by any means, but he and his partner found a way to win. In fact, he said, they have been adjusting to each other quite well all season.
"The play yesterday wasn't the best, but it was all a head game since they took us into three sets and it started to get hard there," said Lemaire.  "(Ethan and I) learned to play together. We obviously don't speak the same language, and I din't know him two months ago. I learned a lot of tennis vocab from him, and it's good to play with people I didn't know before."
Lemaire becomes the second Bellwood-Antis tennis player to capture a District title this year. Tina Hollen became the first when she won the 2A singles crown in November.