B-A sends 5 events to states
Engle, Wolfe take home individual championships
Tuesday night Bellwood-Antis traveled to Mansion Park to compete in the District VI boys and girls track championships.
By the end of the night the Devils had crowned two District champions and sent six athletes to the state meet in four different events.
Clay Engle was able to take home the District title with a triple jump of 44-3 feet. Clay last year placed fourth at Shippensburg in the PIAA Championships.
It was an impressive feat, considering Clay had jumped in two other events, Coach Nick Lovrich said.
"Clay may have not jumped what he wanted to distance wise yesterday, but he had such a tough day.  He competed in all three jumps, so he took six long jumps before the triple jump and then the high jump was going on at the same time as the triple jump," said Coach Lovrich.  "That makes it really tough to have a great distance with all that going on.  Clay put his stamp on the competition by hitting the state qualifying standard on his first jump with a 44 feet.  I was really proud to see him hit his best jump on his last jump.  He beat the field by over a foot and a half."
Shawn Wolfe took home the District Championship in the 200 meter dash with a time of 22.8.
"Shawn was a little disappointed in not making the finals in the 100, and you could see that in his performance in the 200 trials where he ran 23.03, which was the best time in the trials and his best of the year," Coach Lovrich said.  "There was a lot of good completion in the 200, so I thought he had a pretty good shot at being top three.  He had a great start in the finals and had a big lead at the turn with 100 to go.  He showed his toughness by not letting up when the other runners started catching up and shifted in another gear to hold them all off, especially with the athlete from Central Cambria in the finals who was the 400 meter champ."
On the girls side, senior Alexis Gerwert finished in second place in the pole vault after Richland's Morgan Gossard set a District record with a jump of 13 feet. Gerwert got as high as 11, six inches below her personal best.
Senior Kamryn Mercer was a double place-winner, taking eighth in both the high jump and the long jump.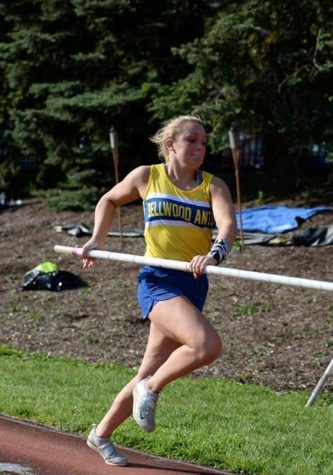 The BA 1600 relay team of Max DeArmitt, Dylan Wilson, Shawn Wolfe and Tanner Worthing placed third with a time of  3:32.32, and  will advance  to Shippensburg.
"All four of those guys ran great legs and it took a total team effort for them to run the time that they did.  We improved by five seconds in that race, so the four individuals working as a team helped them achieve a goal together," said Coach Lovrich.  "Max was the key leg in this race.  He got injured at the ICC meet and we were uncertain until Saturday if he would even be able to run.  We needed him to run his best split on his leg and he gutted it out and got us in position to finish in the top three, which was great to see, especially with him overcoming the injury and this being his first really big meet that he ran in since this is his first year.  Such a great addition this year!"
The last qualifier for the boys track team was Tanner Worthing with a 51.55 third place finish in the 400 meter dash.
"Tanner came up a little short last year and when he finished in third place yesterday you could just see some weight taken off his shoulders," Coach Lovrich said.  "He has worked hard for four years to achieve this goal.  Tanner is usually a pretty calm guy, but yesterday when he beat the Mt. Union runner who beat him last year at districts and at the ICC Meet last week, he was really excited to run a PR and move on to states."
In the field, freshman Joe Wertz placed fourth in the shot put with a B-A freshman record throw of 44'7 3/4″. The old record was set by Tyler Narehood in 2004.
Senior Chris Wertman was eighth in the shot put, and Braden Heisler finished seventh in the javelin.
"The biggest surprise of the day was Joe Wertz's fourth place throw of 44'7 ¾".  We will have huge expectations in the upcoming seasons," said throwing coach Charlie Burch.  "Chris Wertman took eighth place and was a 2-time district place winner in the shot put.  I know he wanted to have a better day but I am proud of him.  He was a 2-time ICC All-Star in the shot put and dominated this season.  Braden Heisler didn't make the finals in the javelin last season so a seventh place this year was a great achievement.  He had a dominant senior season and is in the running for conference all-star."
All in all, it was a solid day for the Blue Devils, which finished fifth in the team standings.
"I thought yesterday was a very good day for us.  We finished in the top 5 as a team and when there are 37 teams that is a pretty good accomplishment," Coach Lovrich said.  "A lot of our guys had PR's today and that is how you want to finish your season.  Any time you are a place winner at the District track meet, no matter what place it is, you should be proud of what you did."