GIVING BACK
Campbell donates $1,000 Gatorade grant to NBCRC
If the second half of the PIAA 2A championship game in March showed anything, it's this: just when you think you've seen everything from Alli Campbell, the star guard always has a little something left in the tank.
On that day, Campbell, one of the top high school players in America, scored 24 of her team's 25 points in the final two quarters to lead the Lady Devils to a state championship, and her coach, Jim Swaney, wasn't taken aback by the performance.
He wasn't surprised on Wednesday, either, when Campbell made a $1,000 donation to the Northern Blair County Recreational Center using a grant she received from the Gatorade Play if Forward program.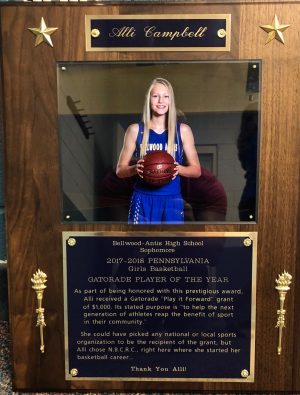 "The one thing I have learned from her is she's not just an extraordinary talent on the basketball court," said Swaney, who was among more than 20 people on hand for a ceremony recognizing Campbell's contribution. "When you look at her as a student and just the way she handles herself, she's the total package. Nothing that she does surprises me."
The grant came as one part of the award she earned in March when she was named the Gatorade Player of the Year for Pennsylvania girls high school basketball.
Campbell said when she learned of the grant, which is earmarked for the youth sports organization of the winner's choice, she knew immediately where it should go.
"This is where I got the start for my basketball career," she said. "I spent a lot of hours in this gym playing with and against friends and teammates. I put a lot of shots up in this gym. It's a very special place."
NBCRC Board Secretary Joe DelGrosso was on hand at the rec center to accept the grant and recognize Campbell. DelGrosso said the money was being used to install benches in the gymnasium for teams to use during their games in place of the chairs now used in the team area.
"This honor is a great honor for Alli and our community," DelGrosso told those in attendance. "She deserves this award more than anything. She started her career here at the rec center. That is why she chose the rec center, because she felt this was the place that got her started. She's put a lot of hard work and dedication into making her what she is today. We're just very honored that she chose the rec center with the $1,000 grant she received."
Campbell still has fond memories of playing at the rec center, starting with her first team in elementary school.
"It was first grade. I played for Tim Johnston on Mayes Memorials, I believe," she said. "I heard there were sign-ups, so I signed up and played in the first and second grade league."
Along the way, she won a few championships, and won the respect of a lot of boys who faced her in co-ed leagues.
"They like to talk, and they don't necessarily think girls basketball is the best," Campbell joked. "It's a pretty good feeling playing with some girls and beating up on some boys."
Campbell's father Travis said the rec center has a special place in his daughter's development, and it was "the first place that came to mind" when they learned a $1,000 grant went along with the Player of the Year award.
"This is where she grew up playing basketball, so there really wasn't much consideration as far as where the grant was going to go because this is where she started and continues to play," he said.
The Gatorade Player of the Year program was created to recognize athletes across the country for their achievement in sports, but it doesn't stop there. Winners are also selected for academic achievement and character, which has been an aspect of Alli's life Travis said he and his wife Erin have stressed.
"She's starting to give back a little bit. She's starting to work with some of the younger kids in the Bellwood community," Travis said. "We watch her grow. We've always taught her to go about her business the right way. When basketball is over, you still have to be a good person. I think she is headed there."
Campbell was also honored with a plaque donated by Bill and Mary Sigel to be displayed at the rec center in honor of her achievement.
In a two-year high school career filled with superlatives, it was one more in a long list of honors for Campbell, who is also an honor student ranking among the top of her class. Along with her Gatorade award, Campbell was also named the 2018 2A Player of the Year by the Pennsylvania Sports Writers, and in June she was among the final 18 players on the roster for the FIBA U17 World Cup.
Already a 1,000-point scorer, Campbell has a strong chance at breaking the Blair County scoring record over her final two seasons, a mark currently held by her one-time teammate Karson Swogger, now a sophomore playing at Saint Francis University, with 2,520 points. Campbell will enter her junior season with 1,345 points.