NHS inducts new members
On November 8, 30 students were inducted into the senior high National Honors Society (NHS).
Inductees included: Philip Chamberlin, Tyson Irvin, Jackson Boyer, Lincoln Boyer, Alli Campbell, Tylar Clemente, Maggie Erickson, Karlie Feathers, Jamyson Focht, Evan Frye, Adisyn Gilbert, Samuel Gormont, Izzy Holes, Bella Kies, McKenzie Lang, Travis Luensmann, Zachary Merritts, Trevor Miller, Caden Nagle, Corbin Nale, Julianna Norris, Emily Osborne, Abigail Pearce, Zion Poe, Alex Roberts, Seamus Salmon, Casidy Shade, Kaitlyn Shanafelt, Johanna Whiteford, and Mason Yingling.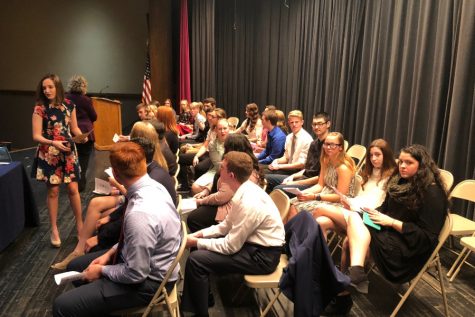 It was well deserved, considering a student needs a 95% GPA to be invited.
Students qualify based on their GPA, along with demonstrated and documented commitment to leadership, community service, and strong positive character.
According to advisor Mrs. Alice Flarend, "The leadership aspect is the hardest one to do. Leaders do not wait to be asked but rather see something that needs to be done and they organize people to do it."
Some might ask why students would want to join. NHS membership signals that not only is a student smart and hard working in school, but also go beyond just doing what is asked in class.
"Being inducted makes me feel like things we do inside and outside of school are recognized," said senior inductee Tyson Irvin.
NHS opens opportunities to do more good work to help people, meet interesting people and learn more about the world. These opportunities can lead to increased job opportunities, college scholarships, and acceptances. So, it is definitely something to strive for.