D'Angelo joins an elite group of scorers
The Bellwood-Antis girls basketball team is filled with all-star players like Alli Campbell and Sakeria Haralson, but no one can look past senior Riley D'Angelo.
Riley is a Lady Blue Devil veteran who has started for four years.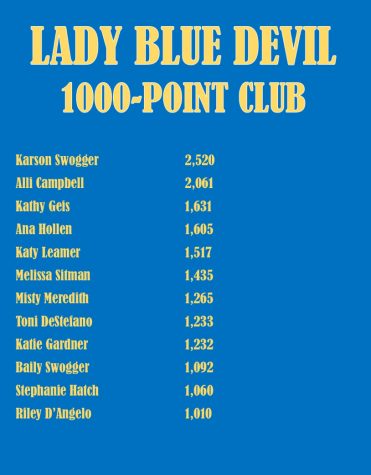 "I have been fortunate enough to start all four years and make history as a member of the state championship team and it doesn't get much better than that," said D'Angelo.
Riley recently fought her way into Bellwood-Antis's elite club of the 1,000-point scorers. With only 11 Lady Blue Devils in B-A history hitting the milestone, she became number 12 last week in a district playoff game vs. Bishop McCort. She had 8 points to push her over 1,000 mark in a hard fought overtime victory.
"It's really cool to be associated with the other 1,000 points scorers from Bellwood because I've looked up to them and watched them play when i was younger," said Riley.
Riley will be one of the key players for Bellwood-Antis tonight in the District 6 2A championship when the Lady Devils face rival Juniata Valley at 6 p.m. at Mount Aloysius.
Riley has been playing and watching basketball since she was young. She started playing in fourth grade and had all the support she could have.
"All of my coaches along the way definitely pushed me to be better," said Riley.
In Riley's entire career she has had the support from coaches, friends, and her family. Riley said she is especially grateful for everything her parents have done.
"My parents were always there to run me to practices and rebound for me at the rec center. They do a lot of things for me so, I am very grateful for what they have sacrificed," said Riley.
In Riley's high school career she has played 110 games. Across all those games she has put up some impressive stats. In total she has 1,010 points with 178 three-point shots. Along with being a shooter D'Angelo is a team player with, 308 rebounds, 30 blocks, 224 steals, and 317 assists.
She set the school record for three-pointers in a game with eight in a game against Mount Union last month.
A star on the soccer pitch, as well, Riley set the all-time Tyrone/Bellwood-Antis scoring record last season.
Riley has attracted the eyes of some colleges and plans to take basketball to the next level.
"I plan on attending Chatham University to major in human biology and go to physician assistant school. I plan on playing basketball there too," said D'Angelo.