Speech team wins title; sends three to nationals
Three members of the Bellwood-Antis speech team will be taking a trip to Milwaukee in May to compete in nationals.
On March 4, 13 members of the team went to St. Francis to compete at regionals. Nine members advanced to the second day semifinals. Of the nine on the second day, six made it to finals.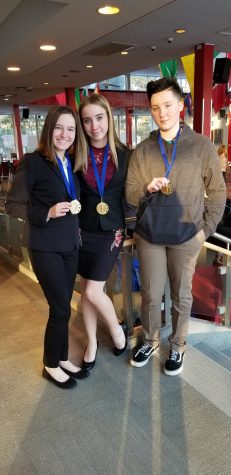 The B-A team capped off a long day that saw the team place first in the small school category overall.
"We are so proud of the entire team for taking first in the small team division and are excited for the students who qualified for nationals," said co-advisor Mrs. Alyssa Cunningham. "Even though our team is young, they are very talented."
B-A had six members of their team place, three of those members – Alivia Jacobs, Emma Corrado, and Haley Campbell –  with a first place finish.
"I'm super excited to see how far Alivia, Haley and Emma can go at the national tournament," said co-advisor Mrs. Sally Padula.
Jacobs, a senior, placed first in informative.
"I feel like my performance was good. My most solid round was the final round," she said. "I want to say I have high expectations for nationals, but I've never before so I'm just appreciative to be competing on a national level."
Corrado placed first in extemporaneous.
"I think I did pretty well, but as usual, there is always room for improvement," said Corrado. "I don't have specific goals, but I hope to do well at states and nationals if I put in the work.
Haley Campbell, who went to nationals as a freshman in declamation, placed first in humorous interpretation.
Caroline Nagle and Haley Campbell both went straight to finals and both placed. Caroline pulled in a fifth place finish in humorous interpretation. Caden Poe and Jayce Miller placed sixth in their duo.