Soccer team gets first win for Coach Bartlett
The Tyrone/Bellwood-Antis co-op soccer team came into the year with high expectations after the new hire of Head Coach Alex Bartlett.
The Golden Eagles delivered big in their season opener at home yesterday with a 2-0 win over Mountain League opponent Philipsburg-Osceola in Coach Bartlett's Debut.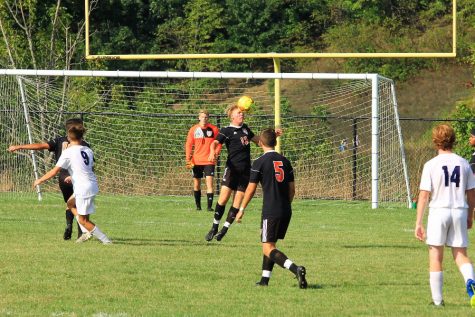 "It was an ideal start for us this season.  We talk about buying in to our system and culture and we finally did that today. I'm super excited, I've been thinking about coaching in this position since I got hired in early April," said Coach Bartlett, a former Mountain League MVP who graduated from B-A in 2014.
Mason Thomas opened up the game with an early goal at the nine minute mark, and defending league MVP  Corey Johnston opened up his season with a goal in the thirty-fourth minute to seemingly put the game out of reach.
"As a team we played really well. We've been doing what coach says," said Corbin Nale. "He says to buy in. You could clearly tell we all bought in. We effectively executed what we're been practicing, creating space and keeping it simple.'
Senior goaltender Alex Roberts recorded a shutout, and the Golden Eagles out-shot P-O 13-3.
"We played well on the ball, and limited our mistakes.  I couldn't be happier with the first game performance," said Bartlett.