Just for Kickz: Blue Devil football cleats
In football a lot of coaches and parents look to get the best and most protective equipment because it is such a high contact sport.
Most of the time they focus heavily on helmets and shoulder pads because that's where the majority of the physical impact happens, but one of the most crucial pieces of equipment for football players are their cleats.
Every aspect of a player's cleats has to be just right, whether it's the weight, ankle height or even the brand. 
Football cleats have come a long way since they were introduced in the early 1860s. In 1925 brothers Rudolf and Adi Dassler, who would eventually start Puma and Adidas, developed the first cleats with removable studs. Players were able to screw in their cleats and play, and then take them off and walk home. 
In the 1970s Nike released its first set of football cleats, and 20 years later it released the Land Shark, a popular shoe fit for multiple playing surfaces.
"
We believe that if you look sharp you play sharp."
— Coach Lovrich
As time went on most companies took to the lighter approach when making cleats. In 2011 Adidas introduced the "5 Star," which was the lightest of its time weighing in at 6.9 oz. Nike topped it two years later with the Vapor Laser Talon, which weighed 5.6 oz. A player's position plays a big role in their choice of cleats as well.
Different brands offer different features to players. Some of the most popular brands of cleats among B-A players are are Nike, Adidas, and Under Armour. Nike seems to be the clear favorite this season.
Senior Julian Bartlbaugh is a wide receiver and linebacker for the Blue Devils. Since his position requires him to be quick on his feet, low-top shoes that are narrow light are the main characteristics that he looks for when purchasing his cleats. 
"The only way to go is low,"  said senior wide receiver and safety Troy Walker. Walker is a key offensive player for the undefeated Blue Devils, who is always the first player open downfield. When looking for cleats Troy goes for a low, and light cleat.
"Low cleats look better, and for someone who has to run routes on offense, and be all over the field on defense, and they provide max ankle flexibility."
Senior linemen Jackson Boyer looks for a high ankle cleat when picking out his own cleats.
"As a lineman you worry about rolling your ankle, in high cleats you don't have to worry that much," said Jackson. 
Beyond brands and fits, the Blue Devils take pride in tradition. Since the 1980's the Blue Devils have worn the same iconic ringer socks and all black cleats. Players are required to keep their shoes clean, and they even go through a shoe inspection on game day.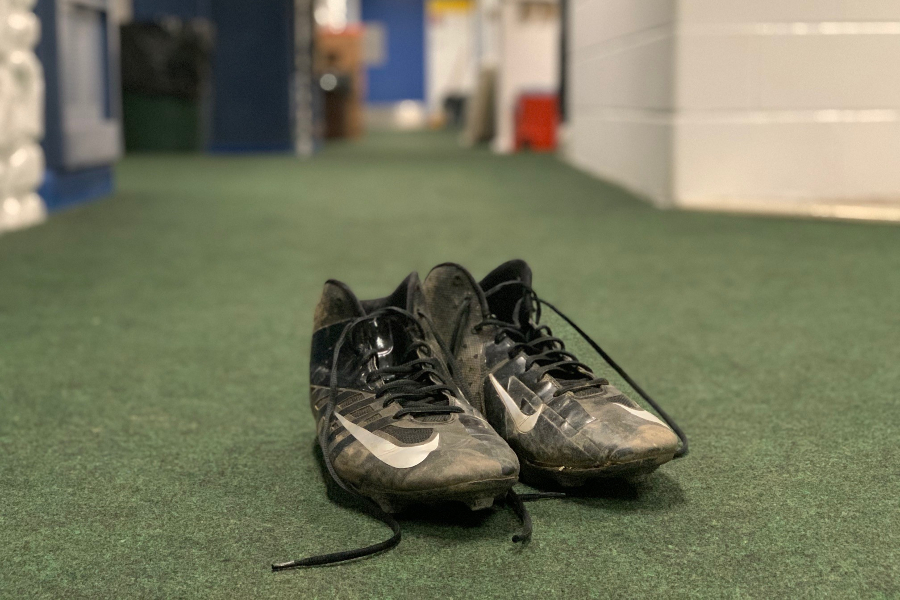 "The goal is to make them look good on the field. We believe that if you look sharp you play sharp," said Coach Nick Lovrich.
The Blue Devils earned a tough first-round win over Cambria Heights last week, and now they gear up to take on Ligonier Valley in the district 6 2A semifinals on Friday. And they will do so in the same black shoes that they've worn for generations.