MS ATHLETE OF THE WEEK: Alex McCartney
Alex McCartney is a very sports-involved middle school student at Bellwood-Antis.  He plays three sports – football, baseball, and basketball – with football being his favorite.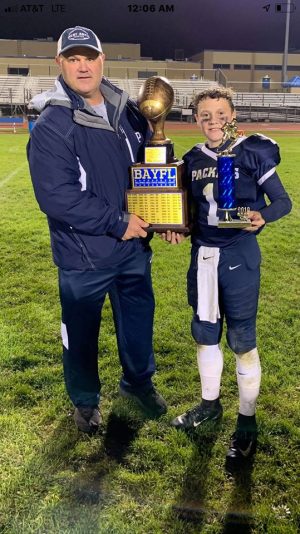 Alex's dedication to athletics has made him the BluePrint's middle school Athlete of the Week.
When asked what he liked the most about football, Alex replied, "My favorite thing to do in football is running the ball."
Alex, who plays for the West Antis Packers, added, "One of my best memories while playing football was the time I played in the championship and broke 5 tackles.  I also had five touchdowns."
The fifth-grader says that he would like to encourage others to join football because it is a great sport for teamwork and it allows you to make strong connections.
Along with Packers, Alex also plays for the Bellwood-Antis Blue Devils basketball team, and the Sheetz-AABA baseball team.
Alex's dad, Chris, wa a big football star at Bellwood in the 1980s and 90s.  He ran for 1,000 yards twice and played in college at IUP.
When we asked Alex how much he looked up to his father, he said, "I hope to follow in his footsteps because he was good and was an all-state tailback. He also played football in college."