Limited tickets for B-A at JV
If you are a person who has never allowed yourself to venture into the thing that is YouTube, you might wanna get familiar heading into Friday, when the Bellwood-Antis Lady Blue Devils travel to Juniata Valley.
Tickets for the marquee ICC match-up between undefeated Bellwood, and two-loss Juniata Valley (including one loss to Bellwood earlier in the year), are extremely limited, and will be first come, first serve, with the sales starting at 3:30 pm tomorrow in Alexandria.
ONLY 240 TICKETS WILL BE SOLD, and tickets will only be sold to individuals present at the time of sale, so no pre-purhcasing for fans not present at the sale time.
So, unless you plan on getting to Juniata Valley VERY early, it might be in your best interest to save yourself the trip, and subscribe to "Hornet TV" on YouTube, or click here to be directed straight to a live stream of the game, which starts at 7:30 pm.
'This is a very unique situation that we have for our girls' games with Juniata Valley,' said B-A Athletic Director Charlie Burch.  "The rivalry and interest has grown to the level that we cannot fit all the fans and spectators in the gyms.  At Bellwood, we can accommodate over 220 more people and it was still very difficult and challenging to host in the beginning of January. "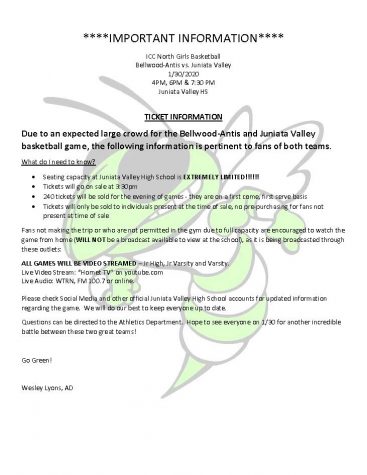 The Lady Devils won the January game 68-52 before a packed house in Bellwood. While seats will be limited, Mr. Burch said Juniata Valley has done its best to accommodate B-A.
"Juniata Valley and their athletic director Wes Lyons have gone out of their way to ensure that varsity parents can find seating at the game and has been very honest with how tickets sales will be done on Thursday," he said.
JV released a statement regarding the seating situation this week on its Facebook page.
For any possible updates, please look to the official social media accounts of both Juniata Valley High school and Bellwood-Antis.
The game is shaping up to be an incredible match-up, and even though it will be tough, the Lady Blue Devils expect to see as many Blue Devils fans as possible. At 16-0, the B-A girls are the top ranked team in District 6 2A while the Lady Hornets are No. 4 at 13-2.
"Everyone has been looking forward to the rivalry game," said B-A senior Sakeria Haralson, one of three Division I recruits that will play in the game. "It's what any athlete looks forward to. It's the bread and butter of any athlete's season."