Taylor and Pellegrine finish top 12
B-A wrestlers Alex Taylor and Evan Pellegrine both had top 12 finishes over the weekend at the PIAA 2A tournament at the Giant Center in Hershey.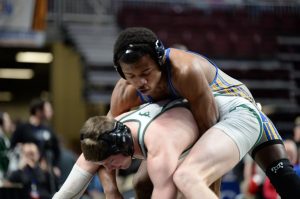 Alex won his first match on Friday by a 6-0 decision but would lose to fellow District 6 wrestler Hunter Weitoish 8-4.
Evan also won his first match of the day by fall late in the second period, but would lose would by fall to Lear Quinton.
Both wrestlers also went 1-1 on Saturday, making them each 2-2 for the tournament.
The team would finish 50th out of 130 teams.
This was the first time Bellwood has ever sent two wrestlers to the state tournament in Hershey.