B-A adds new sign to main entrance
As students arrived back from Labor Day weekend on Tuesday, they couldn't help but notice the addition of the new sign at the main entrance of the high school building. 
For years the high school has had trouble with students and parents not being able to recognize where the main entrance to the building was. It was especially difficult when the school would host events where people were traveling from elsewhere and had no idea where to go to gain admittance to the facility.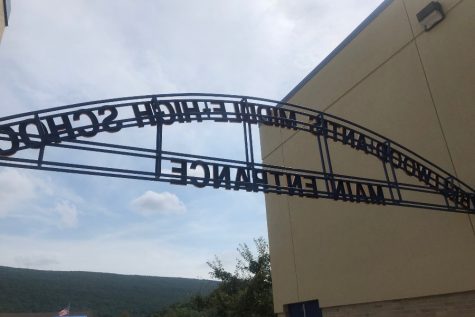 Not only was it an inconvenience, but it was a safety issue as well, and buildings and grounds supervisor Tom Kovac said the district received notice during an audit about five years ago that changes had to be made.
"At that time we didn't know where the main entrance was going to be," said Kovac. The district had several options for a designated main entrance, including the bus port near the football field. "Then about four years ago we designated the main entrance (near the gymnasium) as the visitor's entrance."
Since the addition of officers Tim Mercer and Jeff  Hanna three years ago, a lot has changed at B-A, one of those changes being the new school drop off procedure. Before, parents could drop their child off at any of the school entrances; now students are only allowed in the main door of the high school, which is designated by the new signage. This was meant to limit possible entrances for intruders, and it helps keep kids more organized as they come into school. 
Mercer and Hanna have been looking forward to the sign being put in for the past year now.
"We are really excited with the new sign," said Officer Mercer. "Now parents and students know exactly where to go in the morning as they enter the building, and it makes my job of helping the parents during the drop off procedures a lot easier." 
Beyond parents and students, Kovac said the sign also helps businesses and delivery people who visit the school to easily find access to the main greeting area.
"I've had contractors and sales reps drive right by the main entrance and then call me saying, 'I don't see it,'" Kovac said.
The new sign, which came with a price tag of just over $6,000, is one of many additions that the school is planning to put in as the year goes on. Kovac said there are plans in the future to illuminate the sign with flood lights.
The sign was designed and produced locally by Edminston Signs of Bellwood.