Myers fourth graders sent home following positive COVID test
Fourth graders at Myers Elementary School spent the day at home on Friday after a third-party contractor working in the school tested positive for COVID-19.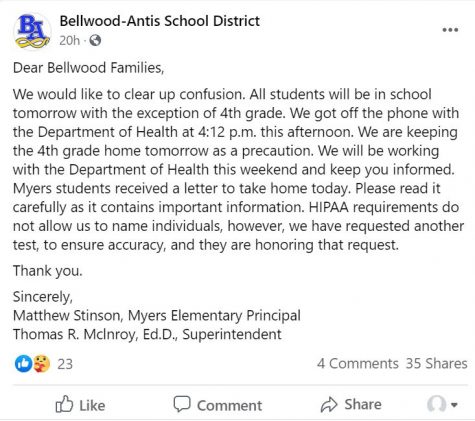 The decision was made yesterday after the school was contacted about a person who had been in contact with fourth grade students having taken a COVID-19 salvia test, which came back positive.
As a precaution the district decided to keep all fourth grade students and teachers home on Friday. 
B-A Superintendent Dr. Thomas McInroy said the district received word yesterday  that one of the school district's third-party contractors had to take a COVID test through their agency, which administers random tests. The test came back positive
"As a precaution we sent that person home, and we contacted the Department of Health as our safety plan says," said Dr. McInroy. "We were contacted later in the day by the Department of Health, and they said that the test is not very accurate, and another test will be taken, and we should hopefully know those results by the end of this weekend."
"It's basically just a precaution," said Myers Principal Mr.Matthew Stinson. "At this time it was just precautionary, it wasn't anything that was mandatory, but we are always trying to keep our students safety in mind, and this seemed to be the right way to do that." 
The fourth grade students are cleared to return to school Monday as planned. Dr. McInroy said the PA Department of Health has determined that students were not in close enough contact with the contractor  to put them in danger.
In a related story, nearby Tyrone today learned its football game tonight against Clearfield was postponed after a Clearfield player tested positive for COVID-19. The Progress Sports Department reported that Penns Valley, which played the Bisons last week, was told be the Department of Health to quarantine 26 players.