B-A makes major changes to education in COVID era
Board looks to half-day Fridays at the high school and cyber subs at Myers
The Bellwood-Antis School Board this week agreed to a proposal designed to ease the burden of teachers in the district who have been simultaneously teaching in-person and online classes since B-A's return to school in August.
Even before school started on August 31, teachers' stress levels have been heightened due to the prospect of not only teaching virtual students, but instructing classes in person during COVID-19 restrictions. B-A teachers have been connecting with students online at home through the use of Microsoft Teams.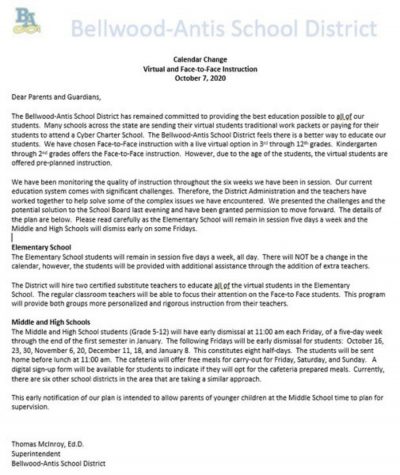 The proposed solution will look different at Myers and the high school/middle school. For middle and senior high teachers, the solution is to do half days every Friday to give teachers more time to prepare remote lessons each week. Students would dismiss at 11
At Myers, the plan is to hire substitutes to take over the teaching of virtual students to provide a more personal approach both for the students in the school building and those learning from home.
Math teacher Mrs. Dawn Frank was the high school representative at the meeting. She spoke on behalf of not only the math department, but the faculty. 
"Our school board listened to what we had to say. The situation we decided on may not be ideal; however, I think it will relieve a lot of stress off the teacher's backs," she said.
Myers Elementary Principal Matthew Stinson said Myers opted for hiring substitutes to handle online learning because administrators looked at test data and determined that students have lost too much ground in their learning since quarantine began in March.
"We want to try and get the best education for face-to-face and virtual learning," Mr. Stinson said.
BluePrint News
Stinson went on to explain that one substitute teacher will be assigned to first and second grade, while the other substitute will be assigned to third and fourth grade.
"They would provide the same curriculum and objectives to virtual students. We have decided on this option so our virtual students get the attention they need," said Mr. Stinson. 
The district notified parents of the change through a letter on Wednesday to allow parents of younger children time to plan for supervision.
The first half-day is set to be implemented on Friday, October 16. The change would last throughout the first semester of school, and if it gives teachers the relief they hope it does, it will continue. 
Superintendent Dr. Thomas McInroy said the move was a necessary change, as teachers were nearing a breaking point trying to meet the needs of both in-person and online learners.
"We have such a great learning reputation, and the workload is too much for teachers," he said. "These half days will provide a relief for teachers that is necessary. Teachers will hopefully be better prepared for the following Monday. They will be able to collaborate more with each other, and they will be able to provide better education."
One big cause for concern is the community's reaction to this change. However, Dr. McInroy said this plan was thought about deeply and changed roughly three to four times to get the most beneficial results.