New Inclusion Club aims to unify all BA students
The Bellwood-Antis School district has started a new club called the Inclusion Club. The Inclusion Club will be a group of students with and without intellectual disabilities who believe that the world would be better if all people were valued, respected, embraced, and included in our schools, workplaces, and communities.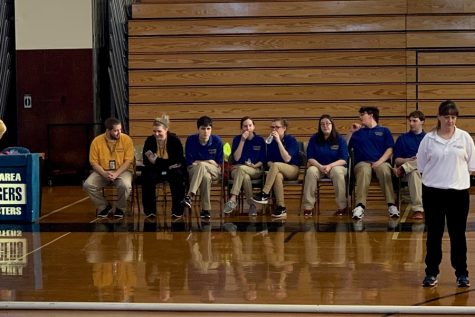 The Inclusion Club has its roots in a movement that began in 2017-2018 when members of the BAHS student body began competing in Unified Bocce, a sport where regular education students and Special Olympic-eligible students competed together in a PIAA sponsored sport.
Despite great effort from individuals and organizations like Special Olympics, people around the world still remain left out, excluded, and isolated. One of these groups is people with intellectual and developmental disabilities, a group made of more than 200 million people, representing every country and cultural group. Globally, people with  intellectual and developmental disabilities continue to be excluded and isolated.
The club advisors are Mrs. McNaul and April Cramer who are also the coaches for the Special Olympics Unified Bocce Team at Bellwood- Antis. Any student is welcome to join the club. They do not have to be an athlete or someone with an intellectual disability. The club wants a variety of members so every voice can be heard.
The BluePrint Spoke with Mrs. Leah McNaul, the impetus behind the Inclusion Club, to learn more about this new group.
BluePrint: What is your role in Bellwood's special education program?
Mrs. McNaul: I am not part of the Special education department but rather, like all teachers here at Bellwood, my classes are mixed with general education students as well as students who get learning support services. I have many special education students in middle school and a handful in my high school classes. Also, since I am a specials teacher, I have the pleasure and ability to include the Life Skills students into my classroom environment. Although they have a modified project from their peers, they are exposed to the greater student body and the student body is exposed to them and together all students learn patience, inclusion and love.
BluePrint: What are the goals of this new Inclusion Club?
Mrs. McNaul: Their first task is to plan an event for the Spread The Word to End The Word Campaign developed by Special Olympics. The club will meet during breakfast in the high school cafeteria on designated days when the club is in planning mode for an upcoming event.
Our goal at Bellwood- Antis is to make every student feel seen, heard and valued and for our district to be the example of what it means to include those with intellectual disabilities. In order to change the culture, the inclusion club will plan and execute events/activities to bring together all students in the student body in engaging team building tasks/games.
BluePrint: How long has including students with special needs been a focus of yours?
Mrs. McNaul: I have always had students with special needs in my classes because of educational laws that include those who receive services into the general education classes, but I have only had life skill students in my room for I believe 6 or 7 years now. The district included these services in the middle and high school around 6 or 7 years ago and one of those classrooms is located across from mine.  Over the years they have brought much joy to my life and I am sad to see my first students (from that group) graduating this year.
BluePrint: How can students be more inclusive of those with different learning needs?
Mrs. McNaul: Including others is easy… all you must do is be there friend. Not treat them 'like' a friend, but 'BE' their friend. Say hi in the hall, invite them to a birthday party, sit by them in lunch, listen when they talk, call them after school… all the things you do with a friend. People are people, and we all have the need for inclusion and love from others. Special Olympics has a great campaign that teaches others that the word Respect should be the new R word. It is time we eliminate derogatory words from our vocabulary. We all have struggles and we all learn different. I have had the privilege of seeing the brilliance in a mind that may not work the same as what we see as normal and that uniqueness has 'value' and should be celebrated, fostered, strengthened and that individual should feel a part of humanity as a valued member.