Think Pink!
Bellwood- Antis comes together to support breast cancer.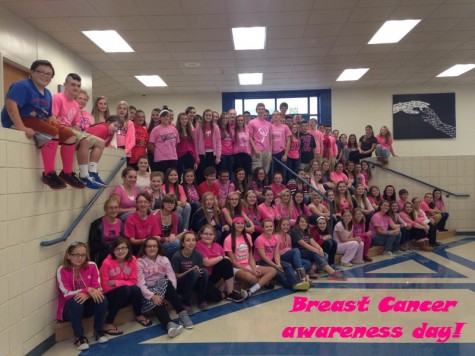 "On Wednesdays, we wear pink!"
Today, Wednesday, October 15, the Bellwood- Antis students and faculty showed our support for the fight against breast cancer! Everyone was asked to come decked out in pink.
Breast Cancer is the second leading cause of cancer- related death in women. Every 2 minutes, there is a new breast cancer diagnosis. Every 14 minutes, a life is lost to the disease. (Over 40,000 people will die this year from breast cancer, 400 of them will be men.)
Although breast cancer diagnosis rate has increased, there has been a steady drop in the overall breast cancer death rate since the early 90's.
There are many reasons why breast cancer death rates are slowly dropping; one is because of public awareness/support. By  wearing pink today, B-A helped raise public awareness for breast cancer.
Mrs. Adams, acting principal, said "I think it's nice that students and faculty want to show support for breast cancer awareness. It's important for us to raise awareness this month since it is breast cancer awareness month."
She continued to say, "Teachers are also donating money towards breast cancer."
Teachers were allowed to wear jeans today if they also wore pink and made a $5 donation.
Not only does Bellwood-Antis have a day dedicated to wearing pink to raise awareness, we also raise money through our Powder Puff game. All the money from ticket sales will go toward research.
Show your support: THINK PINK!
Leave a Comment