New mask mandate to start on September 7
After less than a week of optional masks in Bellwood-Antis, Governor Tom Wolfe and the Department of Health have ruled for a new mask mandate in all Pennsylvania schools K-12. The mandate goes into effect September 7, when students return to school following the Labor Day break.
This mandate applies to all students and teachers, disregarding vaccination status despite what former mandates have ruled, with masks not being necessary for those who are vaccinated. Teachers were reminded of the ruling via email today.
B-A Superintendent Dr. Thomas McInroy sent a letter home with students today informing them of the change in policy. In it, McInroy explained the penalties for breaking the rule while also empathizing with parents on both sides of the masking debate.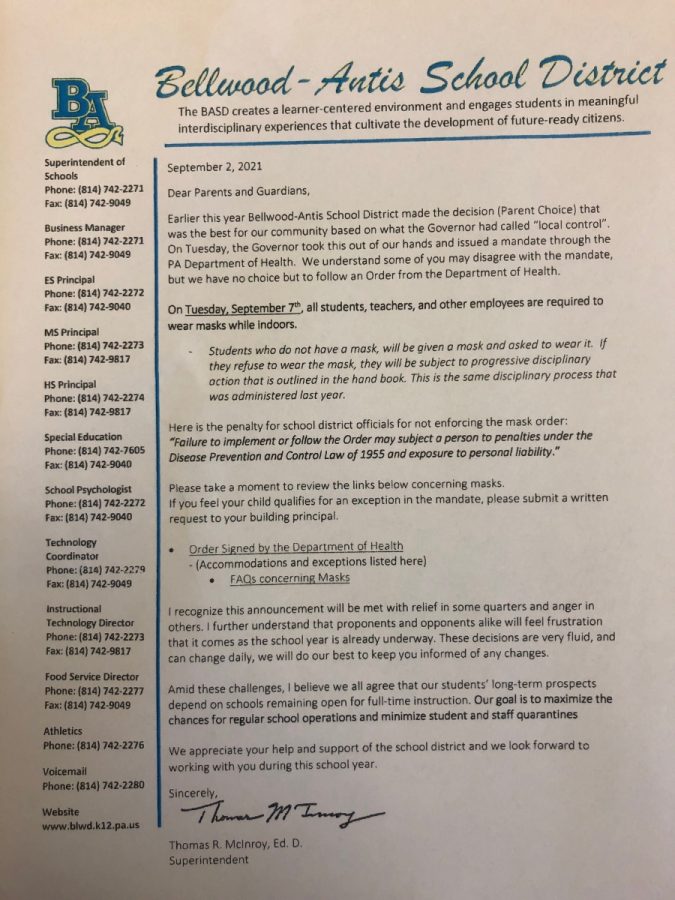 "I recognize this announcement will be met with relief in some quarters and anger in others," his letter said. "I further understand proponents and opponents alike will feel frustration that it comes as the school year is already underway.  These decisions are very fluid, and can change daily. We will do our best to keep you informed of any changes."
Governor Wolfe argued that as the Delta variant of COVID-19 spreads faster and that masks are a step in the right direction for public schools in order to prevent infections.
The new mandate has been met with mixed reaction at Bellwood-Antis High School, with some students and teachers wondering whether or not the governor is leading Pennsylvania in the right direction after the recent spike in cases last month.
Senior Jake Martin feels that "the mandate is unfair for those who are vaccinated."
Pennsylvania lifted its mask mandates for vaccinated citizens in June.
Another senior, Caden Noel, thinks that "our privilege to choose is being taken away."
The governor's mandate also contradicts his statement from the summer that districts would internally handle their own mask policy.
What cannot be debated is the emergence of the new Delta variant of COVID-19 and how quickly it spreads.  One teacher that agrees with the new mandate is Ms. Shimel, as she points out that "the new mask mandate is scientifically smart for those who are unvaccinated and is a simple way to protect the population."
Pennsylvania has seen an explosion of COVID cases in the past month, averaging just under 200 cases per day two months ago to now averaging around 3,000 cases per day.  The trend of cases foreshadows a future of masks for all, but the new policy is to be reviewed by the governor in early October.