Back to school bash a big success
Bellwood-Antis High school started off with a bang last Friday. Principal Mr. Richard Schreier and a few  teachers decided to throw a back to school bash to open the 2021-2022 school year. The school planned everything from a picnic lunch to a prep rally.
The party was to give students the excitement and school spirit for the rest of the year.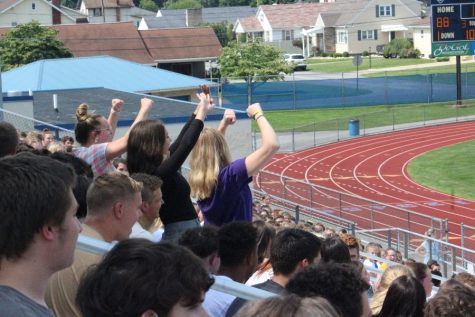 "We had an event two years ago, and it took all day to plan, but it ended up being up really successful," Mr. Schreier said. "Last year we couldn't do any of that due to COVID-19. This year we found a lot of benefit from it. I wanted people to have good opportunities to have fun and show people the clubs and activities that we offer."
Included in the bash was a class tailgate party, an activity fair, class meetings, an inspirational video from the yearbook club, and a high school/middle school pep rally at Memorial Stadium. Students rotated through activities until the pep rally closed the day for the entire group.
The pep rally recognized all fall sports students and got students excited for that night's Backyard Brawl football game.
"I wanted to have an event to represent the fall sports. It gave a lot of school spirit to the students," Mr. Schreier said.
The Backyard Brawl, which B-A won 33-13 over Tyrone, had the most supportive student section it has had in a while.
The back to school bash was enjoyable for most of the students. Mr. Schreier said that this year was the biggest turn out in club sign-ups that B-A have had yet. Overall the event had an incredible turn out, and there was something for everyone.